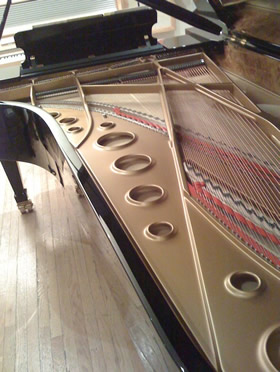 I got better-than-front-row seats to last night's Lisa Moore/Karen Bent­ley Pol­lick con­cert at Klavier­haus (page turn­ing). The high­light for me was get­ting to hear them play Sam Adams's Aves Nos­tradamus, one of the most mad­den­ing and nerve-wrack­ing pieces I've ever had the plea­sure of work­ing on (back in Decem­ber). That's why it was so much fun to sit back and listen to other people go to town. It's a ter­rif­i­cal­ly excit­ing and spas­tic piece which uses lots of extend­ed piano and violin tech­niques with­out ever seem­ing gim­micky or strained (this Fazi­oli piano took a lot of abuse from Lisa; it looked to be about 13 feet long and I'm told it costs $200,000).
Sam doesn't have a web­site or even a MySpace (!) so there's no way I can point you to a record­ing; Sam, get your­self a domain. You'll have to do better than www.samadams.com, though.
NEWS FLASH/UPDATE: Sam actu­al­ly does have a web­site.