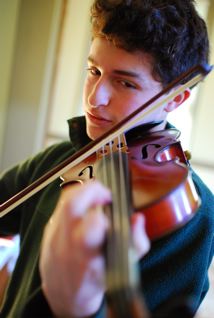 I spent last week at my family's ances­tral home in Wash­ing­ton, CT. I don't remem­ber what I did, exact­ly, but I think it involved many days of alter­nate­ly cook­ing and eat­ing.
I also got to play the piano bad­ly and for fun, which is not some­thing I usu­al­ly have the time or ener­gy to do in New Haven, per­haps because I don't have a piano in my apartment's liv­ing room. I took out all my vol­umes of Schu­bert sonatas and even pound­ed through the Ham­merklavier. It was epic.
My broth­er Wells's vio­lin play­ing has blos­somed to the point where he can sight-read Brahms and Beethoven with aplomb. We were read­ing through Brahms's third sonata, and I had a shock­ing real­iza­tion in the first move­ment devel­op­ment: it has a con­stant dom­i­nant ped­al. I can't think of any oth­er exam­ples of this in the clas­si­cal lit­er­a­ture. Can I even still call it a "devel­op­ment"? It's real­ly just an extend­ed dom­i­nant ped­al lead­ing into the recap. Here, lis­ten:
Brahms: Vio­lin Sonata no. 3, op. 108, first move­ment devel­op­ment
Robert Mann, vio­lin; Stephen Hough, piano
I guess what aston­ished me was not the pres­ence of the ped­al, but how it threat­ens and ulti­mate­ly sub­verts the feel­ing of sonata form in the move­ment. There is none of the blus­ter and bom­bast that Brahms usu­al­ly brings into his devel­op­ments; all the ten­sion is roil­ing just beneath the remark­ably calm sur­face. Instead, all of the out­ward dra­ma gets post­poned until the recap's tran­si­tion into the sec­ond theme, which swings wild­ly and at top vol­ume between har­mon­ic regions. In the nor­mal tra­jec­to­ry of a sonata, one has a sense of "release" or "return" at this point; here, that sense has been com­plete­ly under­mined by the rel­a­tive sta­sis of the devel­op­ment.