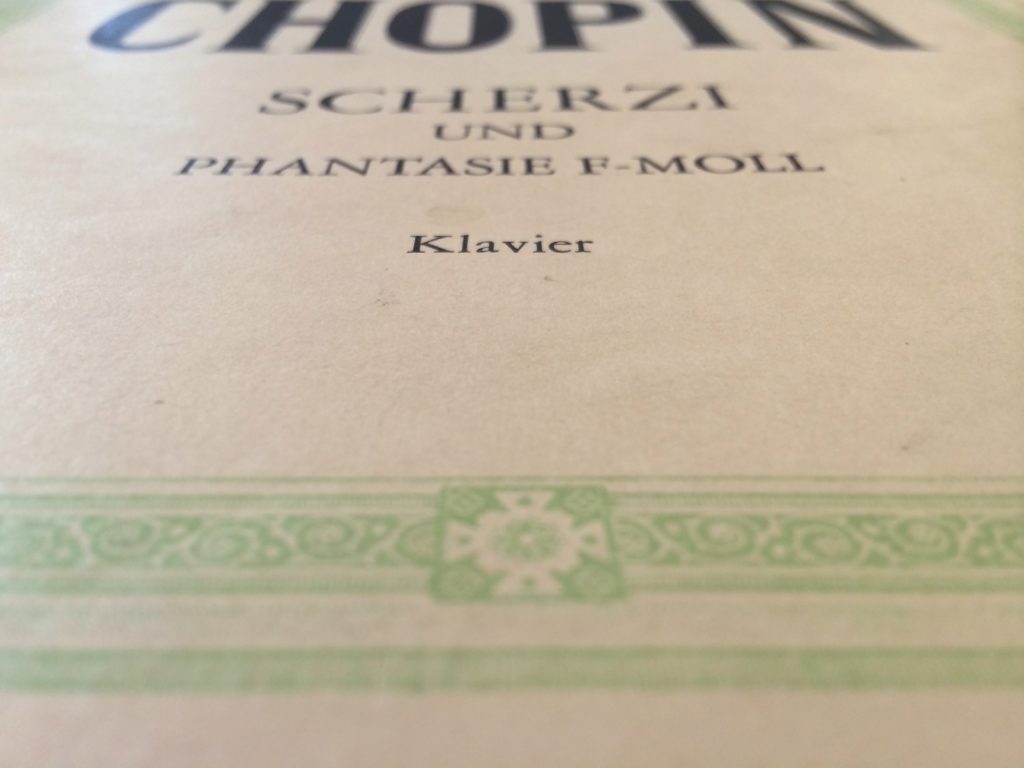 The fol­low­ing is an arti­cle I wrote for Fort­night Jour­nal in Spring 2012, during the course of writ­ing Old Friend for the pianist Kirill Ger­stein. Since Fort­night is now defunct, they've kindly given me per­mis­sion to re-pub­lish it here.
⁂
It's not quite a con­vic­tion, more of a nag­ging sus­pi­cion, that I get each time I'm faced with the task of writ­ing a new piece: it's final­ly hap­pened, the jig's up, you've alto­geth­er run out of ideas. Oh well, it was nice while it lasted.
There are plenty of his­tor­i­cal exam­ples of com­posers who actu­al­ly did "run out of ideas". Aaron Cop­land spent his last two decades con­duct­ing his own pre­vi­ous works; Charles Ives was stymied work­ing on his wildly imprac­ti­ca­ble Uni­verse Sym­pho­ny, falling silent for the fol­low­ing 35 years; around the same time, Sibelius's inabil­i­ty to com­plete an eighth sym­pho­ny cast the last 30 years of his life into self-destruc­tive depres­sion. The pop world can be even harsh­er; there's a kind of crit­i­cal glee when an artist fails to live up to the cre­ative promise of their 20's.
There's some­thing about being a com­pos­er which feels slight­ly fraud­u­lent. It's a far less Promethean occu­pa­tion than the "com­pos­er" of pop­u­lar con­scious­ness. Writ­ing music is more like refash­ion­ing some­thing which already exist­ed, had always exist­ed; it's making a suf­fi­cient­ly unrec­og­niz­able col­lage out of other peo­ples' mate­ri­als. Adding to this per­cep­tion is the fact that it can be so much fun (people pay me to do this?) and that much of the process doesn't feel like "work" in the tra­di­tion­al sense, at least not how I do it.
This week's "work" is start­ing on a new piece for solo piano. Again, by all appear­ances, I am not exact­ly work­ing, but instead play­ing through Chopin's third Scher­zo rather badly. I am enjoy­ing myself immense­ly. Sight-read­ing, as opposed to goal-ori­ent­ed prac­tic­ing, is very free­ing. You don't have to stop and sort out all the little tech­ni­cal prob­lems of learn­ing a piece, instead you just revel in its par­tic­u­lar world, enjoy the sounds of the piano, the blocky chords and approx­i­mat­ed arpeg­gios. In the moment, you manage to con­vince your­self of the bril­liance of your own seat-of-the-pants interpretation—yes, that's how Chopin meant for it to be played!—even though you've put in no care­ful thought and con­sid­er­a­tion, only tried one of a thou­sand pos­si­bil­i­ties. In the Chopin Scher­zo, my "rev­e­la­tion" is to take absolute­ly no lib­er­ties with the tempo—I'm play­ing every rhythm exact­ly as notat­ed. This is the kind of extrem­ist approach that may even­tu­al­ly lead to a useful approach to the piece, but in its unadul­ter­at­ed form sounds more like a stub­born bull­doz­er.
Still, the bull­doz­er approach has some merit—particularly in the middle sec­tion, where that beau­ti­ful block chord chorale alter­nates with fan­tas­tic-sound­ing descend­ing arpeg­gios from the top of the key­board. Under­stand­ably, most pianists I've heard take their time here; it's a deeply expres­sive pas­sage, full of sat­is­fy­ing har­mon­ic shifts and sus­pen­sions (little held-over notes which, when added to an unsus­pect­ing chord, make it sound even better—like har­mon­ic salt). The dis­ad­van­tage of all this swoon­ing is that one loses the sense of for­ward momen­tum. It's just chords and arpeg­gios ran­dom­ly sit­u­at­ed in time, rather than a long melody stretched over a har­mon­ic pro­gres­sion lead­ing to an inevitable con­clu­sion. Some rhyth­mic dis­ci­pline seems to be in order.