Prac­tic­ing Shostakovich this week, along with his com­rade-in-angst Mieczys­law Wein­berg, for a con­cert with ACME. I haven't much thought about Shostakovich's musi­cal lan­guage since sopho­more year of high school, when my attrac­tions tended toward the loud, the dis­so­nant, the minor-mode. Shostakovich sym­phonies were just the ticket.
It's pre­sent­ing me with an inter­pre­ta­tion­al chal­lenge this time around—what to do with all the filler, the stuff­ing in between the themes. There's so much of it, both in the Shostakovich and the Wein­berg (which sounds a bit wack­i­er, maybe just because I wasn't famil­iar with it), page after page of pas­sages like the fol­low­ing: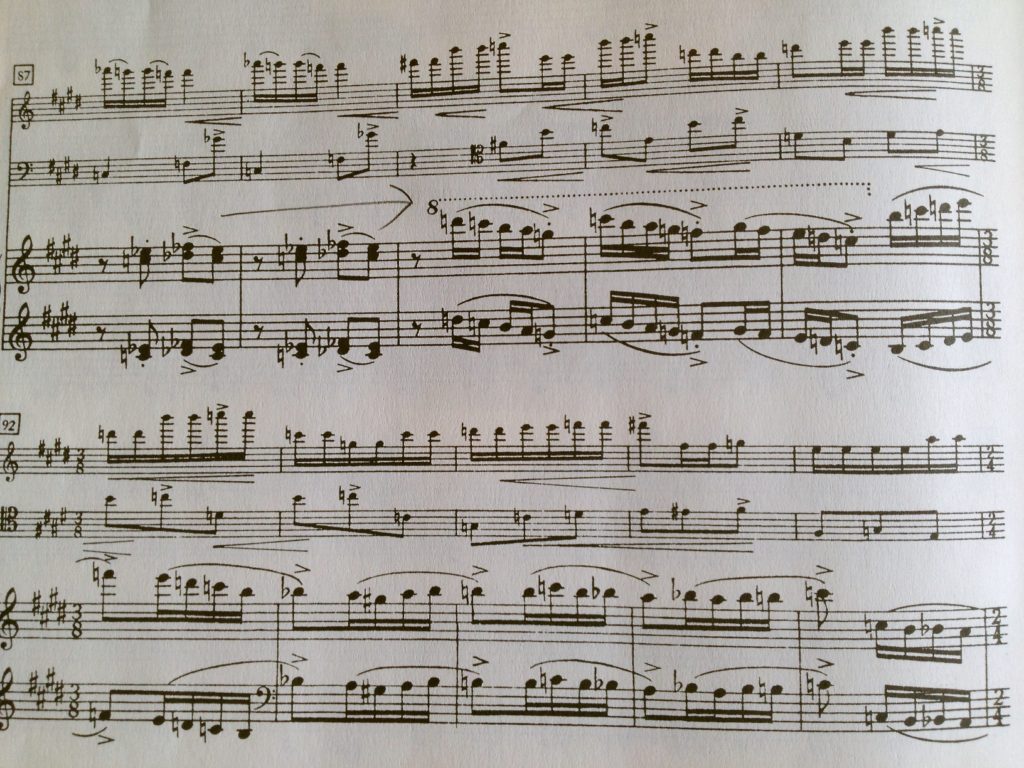 One of the first great mys­ter­ies of writ­ing music was, for me, just this—how to stuff a piece so it wasn't just a theme, repeat­ed a few times. What was all that musi­cal caulk fill­ing in the gaps? What do you do after you've stated your theme (and restat­ed it, in Weinberg's case)?
It's still kind of a mys­tery to me, what fills in the gaps in Shostakovich. We're told the stuff is some­how "political"—that it's pur­pose­ly banal, or ironic—saying lots of words and mean­ing the total oppo­site. How to convey that in a per­for­mance, though? Pow­er­less as music is to com­mu­ni­cate a con­crete thought, is it even worth trying? Maybe the best I can hope for is to shout "Loud, Dis­so­nant, Minor", and the rest will take care of itself.