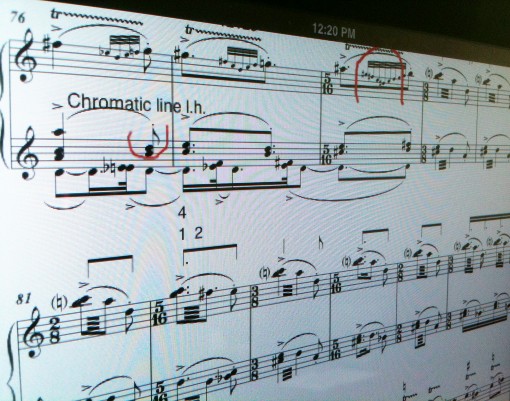 It's funny, for all the time I've spent hang­ing around com­posers and play­ing their music, I haven't had many pieces writ­ten specif­i­cal­ly for me, Timo, the Pianist. So ear­li­er this year I asked a couple fellow Sleep­ing Giants, Jacob and Ted, to write me new solo pieces. I didn't give them any direc­tion or tell them to play to my spe­cif­ic strengths (such as they are)—and I got two wildly dif­fer­ent pieces. Jacob's Clifton Gates is a rather mono­lith­ic, slowly-build­ing med­i­ta­tion on var­i­ous live elec­tron­ics tech­niques; Ted's Par­lour Diplo­ma­cy, on the other hand, con­tains a wild assort­ment of mate­r­i­al over five move­ments and 20 min­utes, and treats Clas­si­cal Style in tones alter­nate­ly rev­er­ent and satir­i­cal.
Last month Ted and I drove up to Ryan Streber's Oktaven Audio in Yonkers to record Par­lour Diplo­ma­cy on the won­der­ful Ham­burg Stein­way that lives there. It was an intense ses­sion fol­lowed by even more intense mar­ti­nis next door. Here's the first move­ment. I'm very pleased with how it turned out because it makes me sound like a much more vir­tu­osic pianist than in real­i­ty I am.
Ted Hearne: Par­lour Diplo­ma­cy I. Five
Timo Andres, piano; Ryan Stre­ber, record­ing engi­neer
I highly rec­om­mend you click through to Ted's Site and listen to the rest of the piece. Over here now.