Just returned from a week­end in Boston, where I wit­nessed a spir­it­ed evening of new-ish music cour­tesy of Dinosaur Annex, and had a rev­e­la­to­ry Chi­nese meal cour­tesy of the Peach Farm. I also took lots of pho­tographs for a class I'm start­ing, and was eager­ly import­ing them when my Aper­ture library decid­ed to col­lapse in a heap of cor­rup­tion. And of course I'd already erased my camera, but hadn't backed up, so I lost them all. I was espe­cial­ly sorry because there was one of a tub of eels.
In the excite­ment over the actual con­tent of New York Phil's season announce­ment, I missed that they also unveiled a total­ly new iden­ti­ty! This makes me inde­scrib­ably happy. Their old logo and graph­ics were so gener­ic I actu­al­ly had to remind myself what they looked like— oh, right:

A swoosh. A musi­cal staff, sure, but still trite, cor­po­rate, and com­plete­ly bland, not to men­tion poorly exe­cut­ed.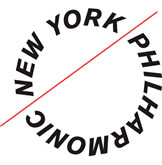 The new logo is the polar oppo­site. The roles of the graph­ic and the type are reversed; now, the let­ter­forms them­selves create a sense of motion and excite­ment, and the red line is the anchor (like a baton! I get it). The typog­ra­phy is cer­tain­ly uncon­ven­tion­al (it reminds me of a cir­cu­lar saw blade) but I think that's kind of what the Phil needs right now— an anti­dote to years of staid, unin­spired admin­is­tra­tion. (Take a look at some beau­ti­ful logo treat­ments at Pentagram's blog.)