D. works in a lab here at Yale study­ing aspects of taste and smell. As one of her on-the-job "perks" she came by a couple of tablets of Mira­c­ulin, made from Mir­a­cle Fruit, which causes sour and bitter foods to taste sweet (there was an arti­cle about this in the Times a few months back).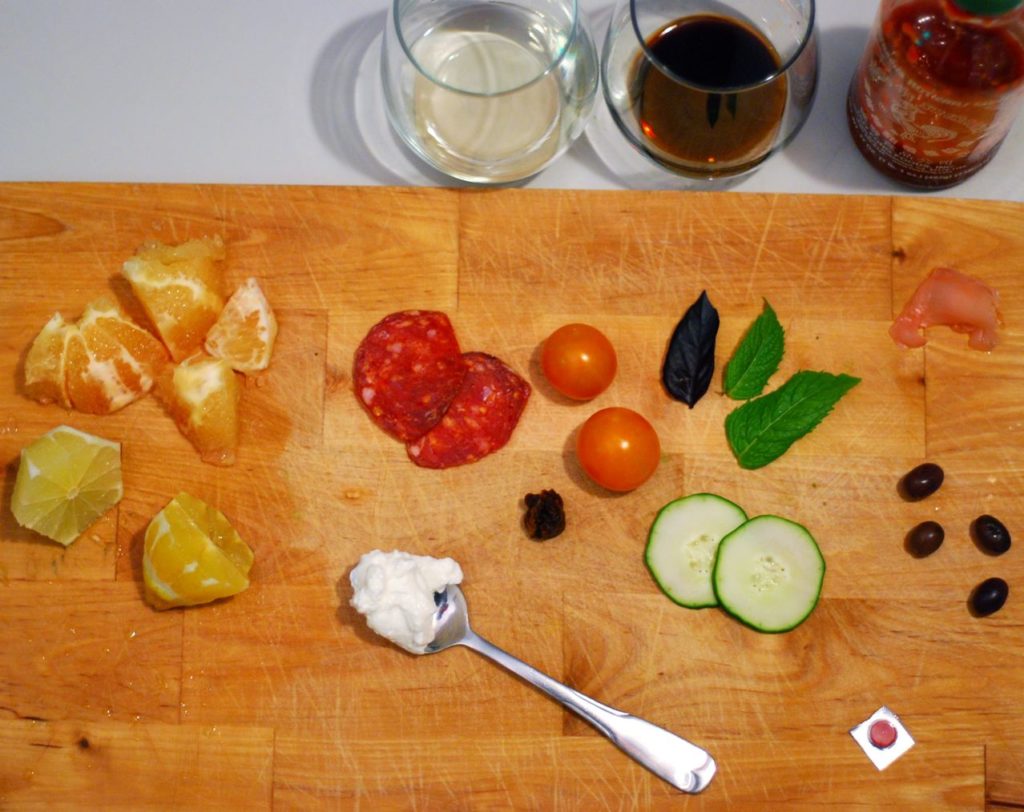 I just had my own pri­vate "flavor-trip­ping" party and here are the results:
The pill itself tastes really sour, which is not what I expect­ed. D. and I both thought it tasted a little like plain tamarind (which is not one of my favorite things— I'd prefer to use it in Pad Thai). So let­ting the thing dis­solve on my tounge was not pleas­ant. But it was over soon enough. The effects are sup­posed to last about 20 min­utes.
First thing I did was boldly bite into a suprèmed lemon. It was deli­cious. Tasted like fresh lemon­ade with just the right amount of sugar, but in a solid fruit.
The lime was sim­i­lar; it was like per­fect lime soda.
The grape­fruit was my favorite of all the citrus, though more subtle; it just tasted like a really good Texas grape­fruit (which it wasn't. I tasted it before­hand for com­par­i­son).
D. advised me to try some Greek yogurt, which is very thick and unsweet­ened. The flavor was nicely bal­anced, a little rich for me— I could imag­ine it being good spread on a scone or some toast.
The cucum­bers tasted no dif­fer­ent, so I used them as pal­lette cleansers between cours­es.
The sushi ginger was not notice­ably dif­fer­ent either, maybe because that stuff is pretty heav­i­ly sweet­ened already.
These sun-gold cherry toma­toes are also quite sweet to begin with, but like any good tomato, they have a strong­ly acidic bite. The mira­c­ulin played up the sweet­ness while cov­er­ing up the acid, which made for an ini­tial­ly excit­ing but ulti­mate­ly lack­ing tomato expe­ri­ence. Adding the purple basil just tasted like adding basil.
This white wine had been sit­ting in my refrig­er­a­tor awhile, and it was get­ting pretty sour. I had high hopes that the mira­c­ulin would render it a deli­cious Sauternes or Gewürz­tramin­er, but it still tasted like bad wine. Just really sweet.
The tamarind (that brown chunk in the middle of the photo) tasted like one of those tamarind lol­lipops from Mexico. It didn't win me over.
Hot sop­pre­sat­ta remained just that.
The bal­sam­ic vine­gar was still very potent; I think this might have had some­thing to do with the fumes. It was drink­able, though, cer­tain­ly no less than strong alco­hol.
The sweet­ness of Sriracha was played up to the point of being a bit cloy­ing; I wouldn't squirt it on my dumplings if it always tasted like that.
So, I think the grape­fruit was the clear winner, with the other the citrus coming in close second. Why not order some for your­self?