ensem­ble violin and piano
dura­tion 15 min­utes
writ­ten winter 2016
com­mis­sioned by New World Sym­pho­ny
pre­mièred April 30, 2016, New World Center, Miami, FL
pub­lished by Andres & Sons Bakery
Note
I don't think explain­ing one's writ­ing process usu­al­ly does much to illu­mi­nate the result­ing work, but in the case of Tides and Cur­rents, which formed from struc­tured impro­vi­sa­tion, this process rep­re­sents a marked dif­fer­ence from the way I've writ­ten all of my other music to date. I'm not much of an impro­vis­er, either in per­for­mance or as part of the com­pos­ing process. How­ev­er, I think impro­vi­sa­tion can some­times achieve a more nat­ur­al sense of pro­gres­sion and devel­op­ment over a stretch of time than my usual, painstak­ing note-by-note rou­tine. That's why I used it as a start­ing point for Tides and Cur­rents, in which I wanted to give large rever­ber­ant instru­ments a sense of geo­log­i­cal change over a rel­a­tive­ly short times­pan.
Impro­vi­sa­tion was only the first step, though. After I'd record­ed sev­er­al layers of pre­pared piano—hilly fig­ures churn­ing through the circle of fifths—I over­laid them at dif­fer­ent peri­od­ic­i­ties, so their peaks and val­leys would clash unpre­dictably. Then I "quan­tized" or aligned them to a reg­u­lar rhyth­mic grid. The result­ing mate­r­i­al, orga­nized into a long crescen­do, became the first half of the piece. The second half takes cel­lu­lar matter from the first and zooms in, reveal­ing a gen­tler play of inter­lock­ing canons.
Once I'd draft­ed the piano parts, their con­stant ascent-descent looked like waves in the score, which sug­gest­ed the back-and-forth exchange of "wet" (rever­ber­ant) to "dry" (short) sounds in the per­cus­sion parts.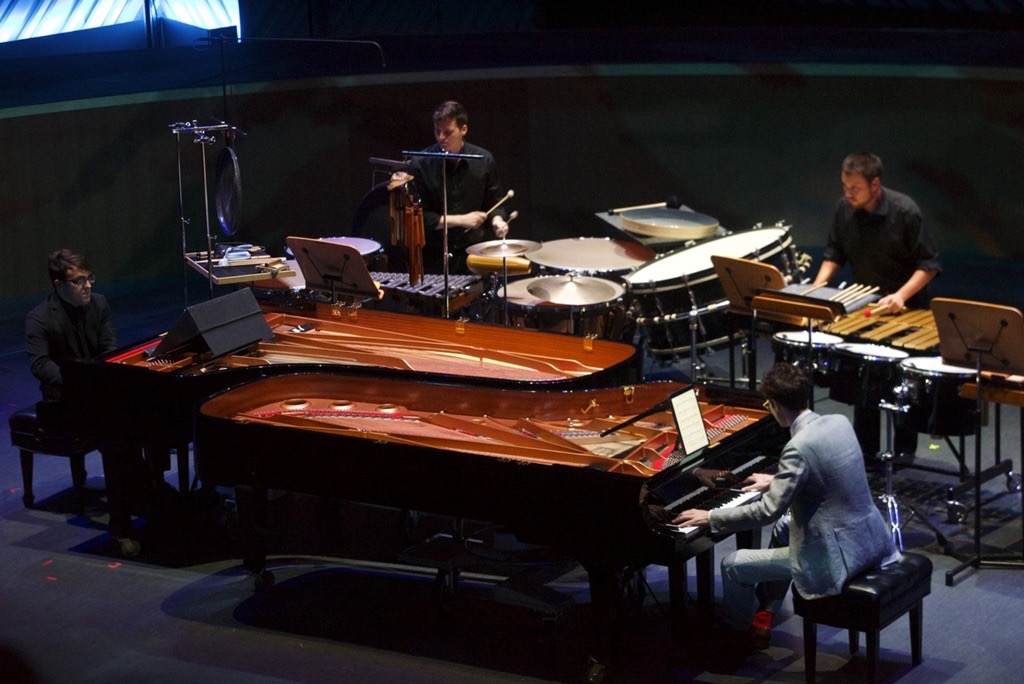 Listen
Timo Andres: Tides and Cur­rents
record­ed live at New World Center, Miami, Fl
per­form­ers Stephen Kehner and Matthew Howard, per­cus­sion; John Wilson and Timo Andres, pianos
Purchase
36 pages, 11x17 format. Includes full score and 4 parts.
Score Sam­ples (click to zoom):