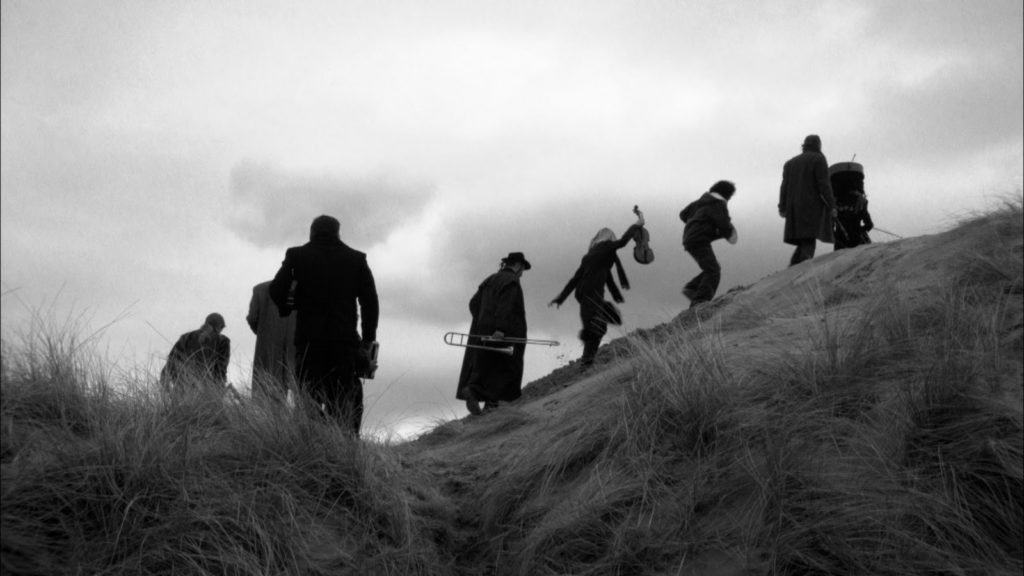 Here is a lin­er note I wrote to accom­pa­ny the CD/DVD release of Louis Andriessen's La Com­me­dia in 2014.
—
Louis Andriessen ini­tial­ly found noto­ri­ety as some­thing of a provo­ca­teur, a com­pos­er whose noisy, auda­cious jug­ger­nauts com­bined min­i­mal­ism, left­ist pol­i­tics, and his char­ac­ter­is­tic "ter­ri­fy­ing twen­ty-first cen­tu­ry orches­tra". La Com­me­dia is his fourth "opera", real­ly a cycle of five mini-cantatas—not exact­ly an adap­ta­tion of Dante's Divine Com­e­dy, but a wide-rang­ing set­ting of parts of it. But what hap­pens when Andriessen—at 75, still some­thing of an iconoclast—decides to tack­le one of the mon­u­ments of west­ern thought? And is he doing so with a straight face, or being a bit of a prankster?
The first tableau, The City of Dis or: The Ship of Fools opens with a busy sur­round-sound col­lage: car horns, bicy­cle bells, jack­ham­mers, sirens, and motor­cy­cles blend with light­ly unpre­dictable min­i­mal­ist urban­i­ty. It sounds famil­iar, appear nonthreatening—the sound­scape is of Andriessen's native Amsterdam—but the city's earth­ly appear­ance masks what tru­ly hap­pens in Dis. Its world mir­rors our own, but not every­thing is as it seems. Though it resem­bles a typ­i­cal city, with its fren­zy of activ­i­ty and pro­fu­sion of archi­tec­tur­al styles (includ­ing Jew­ish and Islam­ic ones—heretical, after all), Dis is essen­tial­ly a huge, hot tor­ture cham­ber. A row­dy men's cho­rus sings a pas­sage from "The Blue Barge", a com­mon Renais­sance ver­sion of the "Ship of Fools" alle­go­ry; crewed by var­i­ous­ly inept and sin­ful char­ac­ters, the barge is a sym­bol of the unknow­ing and uncar­ing damned. In fact, we are already deep inside the pit of Dante's Hell. Dis (a name giv­en to the Dev­il as well as a city he some­times occu­pies) encom­pass­es the sixth through ninth cir­cles of "Nether Hell", and it is here that the most mali­cious crim­i­nals are pun­ished.
Though La Com­me­dia calls for a mish-mash of vocal styles, the default Louis Andriessen affect is close to that of ear­ly music singing. Much of the expo­si­tion of the piece is in dense Bach-ian chorale, but notes and words remain intel­li­gi­ble thanks to min­i­mal use of vibra­to. Falling, melt­ing ges­tures char­ac­ter­ize much of the vocal writ­ing of the first three parts of La Com­me­dia, denot­ing both phys­i­cal down­ward motion and keen­ing lamen­ta­tion. Chords take on an over­whelm­ing grav­i­ty; nor­mal major and minor tri­ads have been lard­ed with tri­tones and sec­onds, and can do noth­ing but descend.
Con­tin­ue read­ing