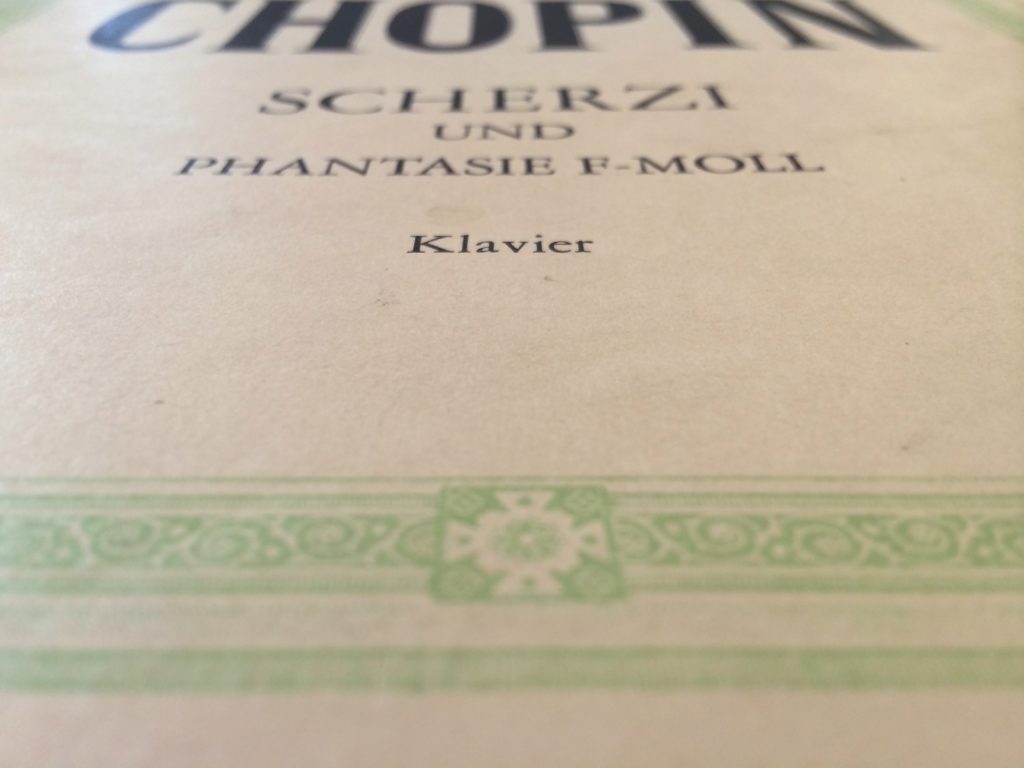 The fol­low­ing is an arti­cle I wrote for Fort­night Jour­nal in Spring 2012, dur­ing the course of writ­ing Old Friend for the pianist Kir­ill Ger­stein. Since Fort­night is now defunct, they've kind­ly giv­en me per­mis­sion to re-pub­lish it here.
⁂
It's not quite a con­vic­tion, more of a nag­ging sus­pi­cion, that I get each time I'm faced with the task of writ­ing a new piece: it's final­ly hap­pened, the jig's up, you've alto­geth­er run out of ideas. Oh well, it was nice while it last­ed.
There are plen­ty of his­tor­i­cal exam­ples of com­posers who actu­al­ly did "run out of ideas". Aaron Cop­land spent his last two decades con­duct­ing his own pre­vi­ous works; Charles Ives was stymied work­ing on his wild­ly imprac­ti­ca­ble Uni­verse Sym­pho­ny, falling silent for the fol­low­ing 35 years; around the same time, Sibelius's inabil­i­ty to com­plete an eighth sym­pho­ny cast the last 30 years of his life into self-destruc­tive depres­sion. The pop world can be even harsh­er; there's a kind of crit­i­cal glee when an artist fails to live up to the cre­ative promise of their 20's.
There's some­thing about being a com­pos­er which feels slight­ly fraud­u­lent. It's a far less Promethean occu­pa­tion than the "com­pos­er" of pop­u­lar con­scious­ness. Writ­ing music is more like refash­ion­ing some­thing which already exist­ed, had always exist­ed; it's mak­ing a suf­fi­cient­ly unrec­og­niz­able col­lage out of oth­er peo­ples' mate­ri­als. Adding to this per­cep­tion is the fact that it can be so much fun (peo­ple pay me to do this?) and that much of the process doesn't feel like "work" in the tra­di­tion­al sense, at least not how I do it.
This week's "work" is start­ing on a new piece for solo piano. Again, by all appear­ances, I am not exact­ly work­ing, but instead play­ing through Chopin's third Scher­zo rather bad­ly. I am enjoy­ing myself immense­ly. Sight-read­ing, as opposed to goal-ori­ent­ed prac­tic­ing, is very free­ing. You don't have to stop and sort out all the lit­tle tech­ni­cal prob­lems of learn­ing a piece, instead you just rev­el in its par­tic­u­lar world, enjoy the sounds of the piano, the blocky chords and approx­i­mat­ed arpeg­gios. In the moment, you man­age to con­vince your­self of the bril­liance of your own seat-of-the-pants interpretation—yes, that's how Chopin meant for it to be played!—even though you've put in no care­ful thought and con­sid­er­a­tion, only tried one of a thou­sand pos­si­bil­i­ties. In the Chopin Scher­zo, my "rev­e­la­tion" is to take absolute­ly no lib­er­ties with the tempo—I'm play­ing every rhythm exact­ly as notat­ed. This is the kind of extrem­ist approach that may even­tu­al­ly lead to a use­ful approach to the piece, but in its unadul­ter­at­ed form sounds more like a stub­born bull­doz­er.
Still, the bull­doz­er approach has some merit—particularly in the mid­dle sec­tion, where that beau­ti­ful block chord chorale alter­nates with fan­tas­tic-sound­ing descend­ing arpeg­gios from the top of the key­board. Under­stand­ably, most pianists I've heard take their time here; it's a deeply expres­sive pas­sage, full of sat­is­fy­ing har­mon­ic shifts and sus­pen­sions (lit­tle held-over notes which, when added to an unsus­pect­ing chord, make it sound even better—like har­mon­ic salt). The dis­ad­van­tage of all this swoon­ing is that one los­es the sense of for­ward momen­tum. It's just chords and arpeg­gios ran­dom­ly sit­u­at­ed in time, rather than a long melody stretched over a har­mon­ic pro­gres­sion lead­ing to an inevitable con­clu­sion. Some rhyth­mic dis­ci­pline seems to be in order.
What is it about those arpeg­gios that sound so good?—better than a nor­mal arpeg­gio, which is just a chord with its notes played one after anoth­er rather than at the same time. These have a real tune embed­ded with­in them, one that you can sing (sort of) and which leads the lis­ten­er down the key­board in an inex­orable sequence. I start fool­ing around with the fig­ure, lead­ing even fur­ther, down to the mud­di­est depths of the piano, mak­ing it mod­u­late and start again, even over­lap with oth­er occur­rences of itself, in dif­fer­ent keys and at dif­fer­ent rates. Might be some­thing there. I often get ideas this way, mak­ing the jump from the inter­pre­tive (pianist) to the cre­ative (com­pos­er) side of me. I've become inter­est­ed late­ly in embed­ding har­mon­ic change in the actu­al musi­cal mate­r­i­al, instead of sim­ply impos­ing change onto exist­ing material—constant change becom­ing a foun­da­tion on which the music devel­ops. Absent-mind­ed­ly butcher­ing a bit of Chopin may have showed me a way to apply this abstrac­tion to my new piano piece.
⁂
My New Piano Piece starts with a big sec­tion based on the skele­tal melody I extract­ed from Chopin. I've arranged it to start at oppo­site ends of the key­board, the two hands mov­ing toward each oth­er at the cen­ter. When they meet, they keep going downward—but the melody also starts again at both ends, dis­placed by half a beat, neces­si­tat­ing fly­ing leaps in both hands in order to play both things at once. These indi­vid­ual entrances—a canon of sorts—build up momen­tum, vol­ume, and har­mon­ic den­si­ty, and things start to go a bit hay­wire. New canon­ic entrances start to appear where they shouldn't, cer­tain lines accel­er­ate wild­ly, and before long it's a black snarl of notes, octaves and arpeg­gios mov­ing up and down the key­board all at once, cross­ing each oth­er and start­ing again. This may be the most dif­fi­cult and out­ward­ly vir­tu­osic thing I've writ­ten in quite awhile.
Through this first sec­tion, the ris­ing left hand notes grad­u­al­ly morph into their own new idea—a cycle built from five-note groups which is like a machine for chang­ing keys, con­stant­ly dou­bling back on itself, ris­ing and falling unpre­dictably but always in strict rhythm. Before too long, these quin­tu­plets are the only thing going, first loud and bril­liant, ris­ing to the very top of the key­board, then mir­rored by a soft and gen­tle response.
The quin­tu­plets wind down, leav­ing the music open and rather spare. A new ver­sion of the open­ing melody is played very high, but it has a new char­ac­ter, also incit­ing har­mon­ic change. It sounds a bit fugal now, like a piece of Bach-ian counterpoint—which, in fact, it is, though the fol­low­ing sec­tion sounds quite unlike Bach. It owes more of a debt, in fact, to the music of Con­lon Nan­car­row, who wrote intense­ly com­plex con­tra­pun­tal pieces for his own mod­i­fied play­er-pianos. His canon­ic voic­es move at dif­fer­ent speeds, wan­der all over the key­board, seem­ing­ly inde­pen­dent of each oth­er but in fact fit­ting togeth­er in a pre­cise­ly cal­cu­lat­ed way. My Nan­car­row sec­tion is not quite as complex—it's going to be played by a human being, remember—but it has the same qual­i­ty of stum­bling back, lurch­ing for­ward, and not quite set­tling into a fol­low­able rhyth­mic groove. Even­tu­al­ly the voic­es do come togeth­er, though, and the music becomes more of a straight chorale—that is, inde­pen­dent voic­es mov­ing in har­mon­ic and rhyth­mic uni­ty. It's still a fugue, actu­al­ly, though each new appear­ance of the sub­ject finds it slight­ly dif­fer­ent, as well as trans­posed by a half-step.
After wind­ing itself up and becom­ing quite loud, the fugue trails off slow­ly, over­tak­en by an almost lul­la­by-like sequence (a rhythm which repeats while mod­u­lat­ing). There is an almost-ref­er­en­tial qual­i­ty to this music, as though it could be from a 19th-cen­tu­ry waltz—expect that it's not formed into pre­dictable units of eight and six­teen bars, instead wan­der­ing slow­ly down the key­board, grow­ing hazy in a wash of grace-notes in dif­fer­ent keys. The sequence is answered by short, upward-mov­ing chorales low in the bass, hint­ing at a sim­i­lar theme in the Chopin scher­zo. This trade-off between the high, waltzy music and the low chorale con­tin­ues for sev­er­al more iter­a­tions, each time build­ing to a slight­ly loud­er dynam­ic and a more urgent har­mo­ny. It all builds to a rather brash state­ment of Chopin's orig­i­nal chorale (with a few extra notes added).
If this has all sound­ed quite relent­less so far—each new sec­tion esca­lat­ing, build­ing, get­ting loud­er and faster and more complicated—that's quite true. It's a relent­less kind of piece, both in its treat­ment of musi­cal mate­r­i­al and in the chal­lenges it presents to the pianist. This is a bit unchar­ac­ter­is­tic. Much of my favorite music, espe­cial­ly recent music, is min­i­mal, sta­t­ic, repet­i­tive, com­plete­ly lack­ing in baroque, devel­op­men­tal dra­ma. I love writ­ing like that, too, but late­ly my com­po­si­tion­al mood's been rest­less, not con­tent to let a piece sim­ply sit and rev­el in its own sound. I'm not sure why this is, but it doesn't par­tic­u­lar­ly alarm me. Some­times I feel more like an inter­est­ed observ­er, eager to find out new things from my music, and to be led to them.
⁂
I've known I would write this par­tic­u­lar piece for about a year. That's a fair­ly short time­line, from com­mis­sion to com­ple­tion, in the so-called Clas­si­cal Music Indus­try, which for all I know has prob­a­bly decid­ed what will hap­pen on the World's Great Stages in 2022. I'm writ­ing it for a young fire­brand-type named Kir­ill Ger­stein, whose career is a refresh­ing break from the Russ­ian Vir­tu­oso mold; he spent years study­ing jazz before decid­ing to return to Rach­mani­noff and Tchaikovsky, and has been com­mis­sion­ing a string of new pieces for him­self (an alarm­ing­ly uncom­mon prac­tice among today's major clas­si­cal play­ers).
All this aside, the only impor­tant thing for me in writ­ing for a pianist besides myself is: do I like the way they play the piano? I'm hyper­crit­i­cal of oth­er pianists, to a far greater degree than oth­er instru­men­tal­ists; this is as it should be, since it's the only instru­ment I have a true tech­ni­cal under­stand­ing of how to play.
It's most­ly a mat­ter of taste, though, which is anoth­er way of say­ing that the things I like are some­what ran­dom. The pianist Ivo Pogore­lich record­ed that Chopin scher­zo in the 1980's, on a bizarre Chopin album that I cherish—it's unhinged, dis­tort­ed, com­plete­ly un-Chopinesque. But it's con­vinc­ing; the same can­not be said about most oth­er self-indul­gent vir­tu­osi. I'm usu­al­ly more of a Richard Goode or András Schiff guy, two pianists who put out a steady stream of unim­peach­able read­ings of unim­peach­able 19th-cen­tu­ry works, year after year. I don't ini­tial­ly know where Kirill's play­ing falls on this over­sim­pli­fied matrix, but any ini­tial hes­i­ta­tion I may have had about him was dis­pelled by a con­cert at Le Pois­son Rouge, the under­ground clas­si­cal music lair on Bleeck­er Street. He plays Liszt and it doesn't sound like "Liszt"—it is grip­ping and sure-foot­ed in a new way. Vir­tu­osic, too, but not for the sake of vir­tu­os­i­ty. There's a calm­ly method­i­cal ele­ment in his per­for­mances, as if his uncon­ven­tion­al approach is guid­ed not by hot­head­ed rebel­lious­ness but by gen­uine curios­i­ty.
Stan­dards of per­for­mance for new music are often low­er than those for the clas­sics. I am not cer­tain why this is but here are a few pos­si­bil­i­ties. Those who are lucky enough to make it as super-vir­tu­osi do so because they play what's famil­iar, music that's time-test­ed and a reli­able pal­lia­tive to audi­ences. There's a long his­to­ry of per­for­mances of those works, so there's more pres­sure to per­form accu­rate­ly (peo­ple tend to notice when you flub a big chunk of the Moon­light sonata); addi­tion­al­ly, it's eas­i­er to make a con­vinc­ing case for a piece when you've lis­tened to all the great­est musi­cians of the last cen­tu­ry play it, thanks to record­ings. With brand-new music, tech­ni­cal pre­ci­sion too often becomes the sole con­cern. The piece is always fin­ished too late, always con­tains pas­sages that are too dif­fi­cult. Hav­ing the dic­ta­to­r­i­al com­pos­er breath­ing down your neck doesn't make learn­ing it any eas­i­er. The reverse of the vir­tu­oso prob­lem often, sad­ly, reveals itself here; a performer's pro­fessed devo­tion to the new and exper­i­men­tal may be anoth­er way of say­ing that they couldn't hack it play­ing the clas­sics. Every com­pos­er has sat through excru­ci­at­ing per­for­mances of their work, train wrecks that cause fin­ger­nails to bur­row into palms, breath to con­strict, ren­der eye con­tact impos­si­ble for the next sev­er­al hours. A large part of becom­ing a pro­fes­sion­al com­pos­er is fig­ur­ing out how to avoid these sit­u­a­tions, though as your music works its way far­ther afield, the like­li­hood increas­es that it will find its way into the wrong hands. I try to main­tain an atti­tude of zen calm about this entire conun­drum. I also try to sched­ule evening "dentist's appoint­ments" on days when I feel dan­ger­ous per­for­mances may lurk.
The way to insure that a per­for­mance goes well is to write not just for the best musi­cians you can find, but the best musi­cians you can find who are your friends. This process should ide­al­ly start ear­ly, in col­lege. Your friends will, most impor­tant­ly, feel a per­son­al oblig­a­tion to do the nec­es­sary work; they will also, usu­al­ly, for­give the impos­si­ble string cross­ings you've writ­ten, your demands for more rehearsal, your care­less cut­ting remark. They will also be your music's best stew­ards out in the Real World. Not every­one you meet in school will go on to be a pro­fes­sion­al musi­cian, but many will, and it's excit­ing to watch your class­mates become pro­fes­sion­al col­leagues forg­ing their var­i­ous paths. Some become teach­ers or pro­fes­sors, some join orches­tras (or con­duct them), some form quar­tets or trios or take up with bands. Some find their way into the more com­mer­cial worlds of film and TV music. A very few might estab­lish them­selves as soloists. Most do an amal­ga­ma­tion of these things; ver­sa­til­i­ty is key.
All this is to pref­ace: I am quite cer­tain the Kir­ill Ger­stein will do my piece every jus­tice it deserves, and I'm con­fi­dent that he'll be able to man­age any dif­fi­cul­ty I throw his way. It's a good feel­ing, and I'm throw­ing him plen­ty. Also impor­tant: I know I won't have to learn it myself, at least not for a while. I'm feel­ing very good about del­e­gat­ing the respon­si­bil­i­ty.
⁂
A strange aspect of writ­ing music for acoustic instruments—a fair­ly accu­rate if over­ly lit­er­al descrip­tion of what I do—is that the basic tools are the same as they were in the nine­teenth cen­tu­ry, when the sym­pho­ny orches­tra was stan­dard­ized. Cer­tain­ly there's been incre­men­tal progress in technique—percussionists play more instru­ments, winds and brass play higher—but it's still just apply­ing a bow to a string, pass­ing air over a reed, strik­ing a string with a ham­mer. I wouldn't say I com­pose out of nos­tal­gia, but I do like this ele­ment of old-world craft. Orches­tra is one of those spe­cif­ic media, like oil paints or mar­ble or 35mm film, which pro­vide a good bal­ance of con­straints and pos­si­bil­i­ties. I nev­er feel boxed in writ­ing for these instru­ments. Quite the oppo­site; cre­at­ing some­thing using 300 years of accu­mu­lat­ed tools can be inspir­ing.
I tend to look back­wards a good deal when I'm writ­ing a piece, per­haps more so than oth­er less clas­si­cal­ly-ground­ed com­posers my age. The way I'm using mate­r­i­al and mak­ing a ref­er­ence to Chopin is not unique to this par­tic­u­lar piece. All music is made from the music which pre­ced­ed it, and I'm inter­est­ed in this process of influ­ence and fil­ter­ing, whether con­scious or uncon­scious. When I hear a new piece of music, I real­ly like being able to parse influ­ences; it gen­er­al­ly sig­ni­fies that the com­pos­er wasn't to con­cerned with some con­cept of "orig­i­nal­i­ty", which is a chimera any­way. Every com­pos­er can't pos­si­bly rebuild music from scratch, and why shouldn't lis­ten­ers be able to guess what music you love and admire most?
Quo­ta­tions, ref­er­ences, and "bor­row­ing" feel like nat­ur­al musi­cal phe­nom­e­na to me. Per­haps because I grew up with the music of Charles Ives—the Amer­i­can com­pos­er noto­ri­ous for co-opt­ing every­thing from Beethoven and Bach to the lat­est rag­time march­ing band tunes—I've always liked the way a ref­er­ence can express some­thing dif­fer­ent from its orig­i­nal con­text. And it doesn't even have to be some­thing that's nec­es­sar­i­ly heard on the sur­face. When I first start­ed try­ing to write larg­er-scale pieces, ear­ly in high school, I'd look to oth­er works to use as struc­tur­al mod­els. I espe­cial­ly admired the way Aaron Cop­land built his forms, so I'd fig­ure out how he'd put togeth­er a sonata or a sym­pho­ny, and sim­ply fit my own music into the moulds.
This hind­sight is also great for a kind of his­tor­i­cal decon­tex­tu­al­iza­tion. It can be a divert­ing mind-game: what if Brahms had heard Ligeti's music? What if Mahler had con­duct­ed Ives? (this almost hap­pened, actually—one of the great "what ifs" in music his­to­ry). Brahms looked back­wards, too—he knew his Palestrina—and merged what he learned with his 19th-cen­tu­ry Vien­nese mileu. And now I have the dis­tinct advan­tage of being able to learn from both Brahms and Palest­ri­na. Quo­ta­tion, even if only I know it's there, is a way of giv­ing a lit­tle tip of the hat to a musi­cian I feel I've learned from, or who's helped me in some way, even if they hap­pen to have been dead for 150 years.
⁂
Today was one of those freak­ish­ly love­ly ear­ly spring days, where it seems like all of Brook­lyn has decid­ed to emerge en masse from its bur­row. Also I reached a "dou­ble bar" on my piece. This is not the same thing as being fin­ished with it, but it still feels like a sym­bol­ic accom­plish­ment. One doesn't real­ly plan com­po­si­tion­al work down to the day, so reach­ing such mile­stones is always a nice sur­prise. I'm cel­e­brat­ing with a beer on my bal­cony, watch­ing peo­ple come and go from their yoga class­es next door.
The great major­i­ty of pieces I've writ­ten end qui­et­ly and this one is no excep­tion. I find it dif­fi­cult to imag­ine a tru­ly con­vinc­ing loud end­ing. I can't even think of many pieces I like (post Clas­si­cal-era) that real­ly have sat­is­fy­ing, loud end­ings. John Adams has a few, though Har­mo­ni­um, per­haps his grand­est piece, ends with a trade­mark hushed grooves (à la Reich's Music for Eigh­teen Musi­cians). Messiaen—perhaps a can­di­date, though I often feel as if he's reached (reli­gious) cli­max with­out me. Every­thing I try in this vein seems too brash, too eager to please, or some­how un-earned, as though any loud event I write requires a qui­et, thought­ful com­ment to fol­low. One of my long-term com­po­si­tion­al goals is to fig­ure out a way to 'end with a bang' but with­out being too Carmi­na Burana about it. Per­haps the next piece.
The end is a sort of mir­ror image of the big, vir­tu­osic open­ing section—only now it's extreme­ly qui­et, both hands glid­ing over the key­board at inde­pen­dent speeds, cross­ing each oth­er, and going back the oth­er way. It's all built from the same stuff, but now those arpeg­gios sound open, dis­tant, almost Impres­sion­is­tic. Even the har­mon­ic machi­na­tions of the quin­tu­plets sim­ply drift away—we're hear­ing them from a dis­tance now, and they become a sin­gle, large shape rather than lots of tiny inscrutable ones.
After today's dou­ble bar there remain a few things to deal with. One is a title; I sim­ply haven't come up with any­thing remote­ly suit­able, even after leaf­ing through all my sketch­books and post-its full of pos­si­bil­i­ties. This will take some thought, or maybe some con­ve­nient hap­pen­stance. I try not to take titles too seri­ous­ly even though I am very opin­ion­at­ed about them. If the music is good and title mediocre, few will mind. But a real­ly good title can draw the audi­ence in, make them curi­ous, stick in their minds and pro­vide some­thing to mull over for a while. After that first impres­sion, the impor­tance of the title fades away. It's just a giv­en name, after all; the music is the thing which goes on to lead an actu­al life. Also it's got­ten pret­ty tire­some writ­ing an arti­cle about a piece which I keep hav­ing to call "My New Piece", like a par­tic­u­lar­ly unin­spired third-grad­er.
Two, a big­ger conun­drum, is that I need to clean up the nota­tion. My New Piece has end­ed up being very com­plex in parts. Even though what I've writ­ten is for just one musi­cian, there are long sec­tions where the music is essen­tial­ly of two, three, even four inde­pen­dent "voic­es" which each move at dif­fer­ent speeds, are often in dif­fer­ent keys, and occur at dif­fer­ent reg­is­ters of the key­board. Some­times they cross each oth­er, pass­ing from tre­ble to bass and hand to hand. What I need to fig­ure out is how to bal­ance the horizontal—keep the musi­cal voic­es clear and separate—with the ver­ti­cal, help­ful­ly indi­cat­ing which notes should be played by what hand.
This is impor­tant because notation—the way the com­pos­er choos­es to con­vey pitch­es, rhythms, dynam­ics, and expres­sions on the print­ed page—can have a huge effect on how well the per­former is able to receive his or her inten­tions. There is not usu­al­ly one sin­gle cor­rect way of notat­ing a pas­sage of music, and as com­plex­i­ty increas­es, so too do the num­ber of pos­si­bil­i­ties. The 20th cen­tu­ry spawned a cer­tain vogue for invent­ing new nota­tion­al sys­tems, not based on stan­dard print­ed music; some of these scores con­tain instruc­tion­al pref­aces sig­nif­i­cant­ly longer than the pieces them­selves. I regard this as some­where between mild­ly divert­ing con­cep­tu­al art and total fraud. The best engravers find an ele­gant bal­ance some­where between clear­ness of inten­tion and graph­i­cal clean­li­ness of the page. You don't want to over­whelm the per­former with direc­tion; this is sure to inspire a wood­en, unin­spired read­ing. You want to gen­tly guide them into fol­low­ing your direc­tions, care­ful to main­tain a con­sis­tent and unmis­tak­able edi­to­r­i­al voice with­out becom­ing too didac­tic. The com­pos­er can't, and shouldn't, make every sin­gle deci­sion; oth­er­wise the per­former is ren­dered a mere robot.
A few days lat­er. I'm in LA for ten days to play a few con­certs. On the plane I man­aged to pry open my lap­top and sort out most of the nota­tion issues, and do some last-minute for­mat­ting. I'm feel­ing good about My New Piece, think­ing about send­ing Kir­ill a PDF in the next week or so. This too feels like an incred­i­bly final step, even though it's not. Revi­sions are cer­tain­ly pos­si­ble, and to a cer­tain extent, like­ly. But I haven't showed him any music yet, and there's always that low-lev­el fear that reveal­ing the result of the com­mis­sion will inspire regret.
Also, wor­ry­ing­ly, the piece now has a tail. I stayed up late a few nights ago and added a lit­tle extra music on the end when I got home, a kind of dour elab­o­ra­tion on the orig­i­nal end­ing. I haven't decid­ed how I feel about it in the day­light. Ampu­ta­tion may be nec­es­sary.
It doesn't feel as though I've tru­ly done much writ­ing at all, over the past month. There's always a curi­ous feel­ing of dis­tance once I'm fin­ished with a piece, as if it were sim­ply extract­ed from me while under anes­the­sia. And in fact, I'm only "fin­ished" with one thing: writ­ing down a set of instruc­tions. The real life of the music starts here—rehearsing, prac­tic­ing, per­form­ing, hear­ing dif­fer­ent peo­ple play it in dif­fer­ent places for dif­fer­ent audi­ences, revis­ing, record­ing, por­ing over takes. Only lat­er, after being remind­ed by these things does the real­iza­tion set in: "Oh yes, I'm the per­son who wrote that music"—and by then it's become an old friend.