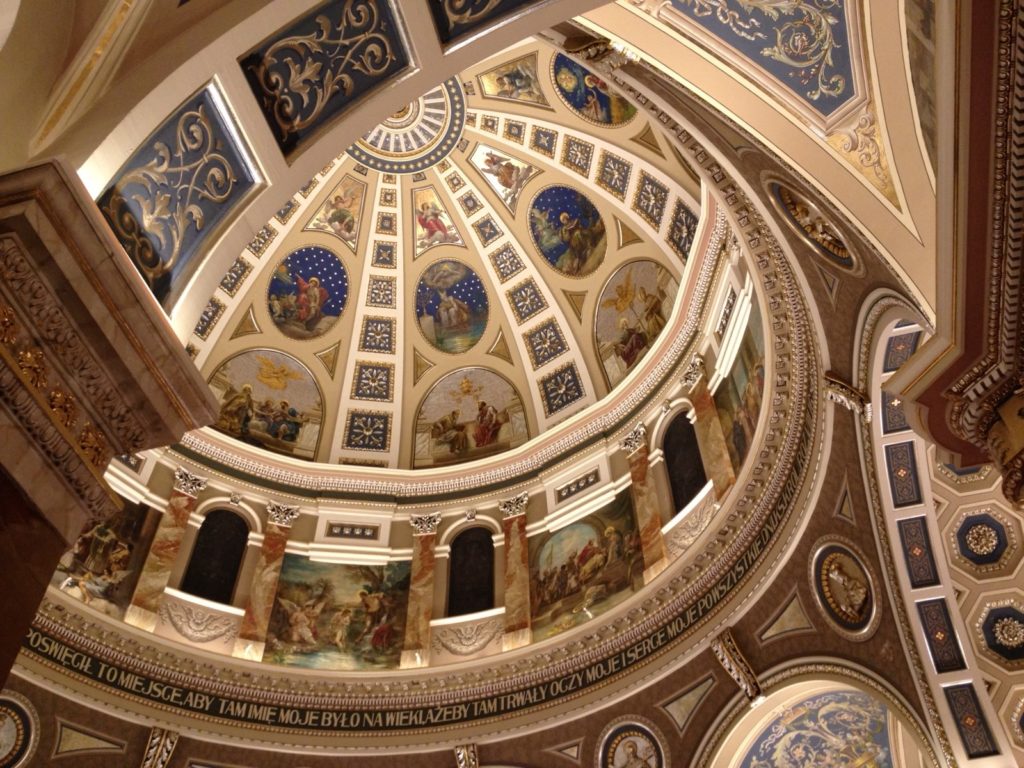 Last night I went to the Basil­i­ca of St. Jos­aphat (could they not have picked a more dig­ni­fied-sound­ing Saint?) to hear the Mil­wau­kee Sym­pho­ny. Two of my school chums play in the group—Margot, a vio­lin­ist, and Aaron, a bas­soon­ist. It's a great-sound­ing orches­tra, though it was hard to hear very much detail in the Basil­i­ca, which acoustic makes our old stomp­ing ground of Woolsey Hall look bone-dry by com­par­i­son. The strings start­ed off with an unfa­mil­iar Pärt piece, Tris­a­gion, glo­ri­ous­ly well-suited to such a space; same for the next piece, a stolid if unin­spir­ing hunk of pon­der­ous Russ­ian Ortho­doxy by one Met­ro­pol­i­tan Hilar­i­on Alfeyev (or as he is better known, 1 Chain).
The second half of the show was utter­ly con­found­ing: Ravel's Ma Mère l'Oye suite, and then TOD UND VERKLÄRUNG. What was even going on here? The pro­gram alleged­ly had some sort of theme—"transformation", perhaps?—but I'll be damned if I could've fig­ured that one out on my own. I am actu­al­ly having a hard time think­ing of two pieces more ill-suited to being a) bed­fel­lows on the same pro­gram-half or b) played inside a giant, echoey Basil­i­ca. It's the kind of thought­less jux­ta­po­si­tion which, instead of illu­mi­nat­ing the sim­i­lar­i­ties or con­trasts of both pieces, serves only to make each one sound ridiculous—cartoonish, even, and Strauss's tone-poems border on car­i­ca­ture already. If the mood isn't right, the only thing you can think about is: indeed, yes, we are hear­ing a piece writ­ten by a 25-year-old ego­ma­ni­ac enti­tled DEATH AND TRANSFIGURATION. My god, if I ever try any­thing like that, please some­body send me to Siberia.
St. Josaphat's Basil­i­ca is an enter­tain­ing space: vast & ornate with some of the most con­vinc­ing trompe-l'oeil marble I've seen. The pews were encour­ag­ing­ly packed, with chil­dren and young cou­ples well-rep­re­sent­ed. Nice to see you, Mil­wau­kee!
My hotel con­tains (pos­si­bly a con­vinc­ing repli­ca of) an old-fash­ioned diner counter, where break­fast is served; the wait­ress­es are atten­tive and one's coffee remains mirac­u­lous­ly full. I've reached the point in life where I would much rather do with­out the stan­dard-issue com­pli­men­ta­ry hotel breakfast—in fact I can think of little more stom­ach-turn­ing than the little poly­styrene muffins in their glass mau­soleum. It is thrilling to be able to pay actual money for smoked salmon & scram­bled eggs & hash browns.
Speak­ing of which: this after­noon is the pre­mière of my new choral piece, Com­fort Food, on Present Music's annual Thanks­giv­ing con­cert. Again we find our­selves in a cathe­dral, though it is one of a slight­ly more man­age­able size. Rehearsal yes­ter­day was quite encour­ag­ing, and I'm as un-ner­vous as it is pos­si­ble to be for these occa­sions. Again, some detail is unavoid­ably lost to the acoustic, but it's not a piece where I miss it much, even though I put in all those details myself. The text may be beyond com­pre­hen­sion, but when is a text sung by a chorus ever com­pre­hen­si­ble?
Present Music is doing some­thing kind of great thing on the con­cert, which they are call­ing an "Ives Mashup"— cut­ting up his song The Things Our Fathers Loved into small chunks and splic­ing into it a panoply of folk songs, pop­u­lar tunes, march­es, etc. and in true Ivesian manner, having roving bat­tal­ions of instru­men­tal­ists and singers and children's choirs play and sing in mul­ti­lay­ered antiphonal parades. I wouldn't have thought this would be a good idea, mostly because it's hard to imag­ine split­ting apart one of my favorite songs, but The Things Our Fathers Loved is by nature frag­men­tary, and this fur­ther inter­po­la­tion doesn't bother me at all—in fact, it comes across as a tri­umphant homage. I'm not quite sure what to expect from the rest of the pro­gram, which will fea­ture Native Amer­i­can Drum­ming as well as me play­ing The Alcotts. What is clear is that some­body thought about this con­cert.