Monthly Archives:
October 2011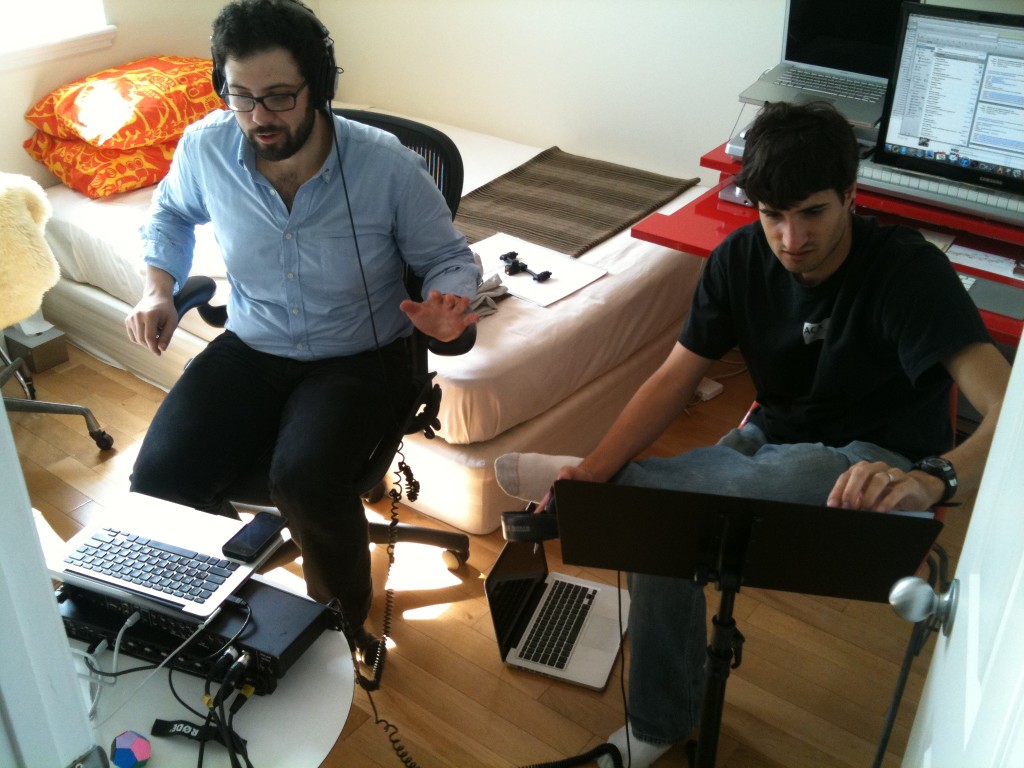 Sleep­ing Giant had our first fundrais­er concert/party yes­ter­day, at a lovely home right at Fulton Ferry Land­ing. It remind­ed that I'm quite grate­ful to find myself living in the midst of a thriv­ing milieu of com­posers and musi­cians here in New York. One of the ben­e­fits of this is that we get to do projects togeth­er, which makes life less lonely than it oth­er­wise would be for a com­pos­er. Sleep­ing Giant is merely one of the more public faces of this. At one point in my life I might have scoffed at the idea of a "com­posers' col­lec­tive" (the term some­times seems short­hand for "none of us is quite inter­est­ing enough to carry a show on our own") but I can't help but see Sleep­ing Giant as some­thing dif­fer­ent. For one thing, it's simply giving a name to a set of rela­tion­ships, col­lab­o­ra­tors, artis­tic friends and foils that would have exist­ed anyway.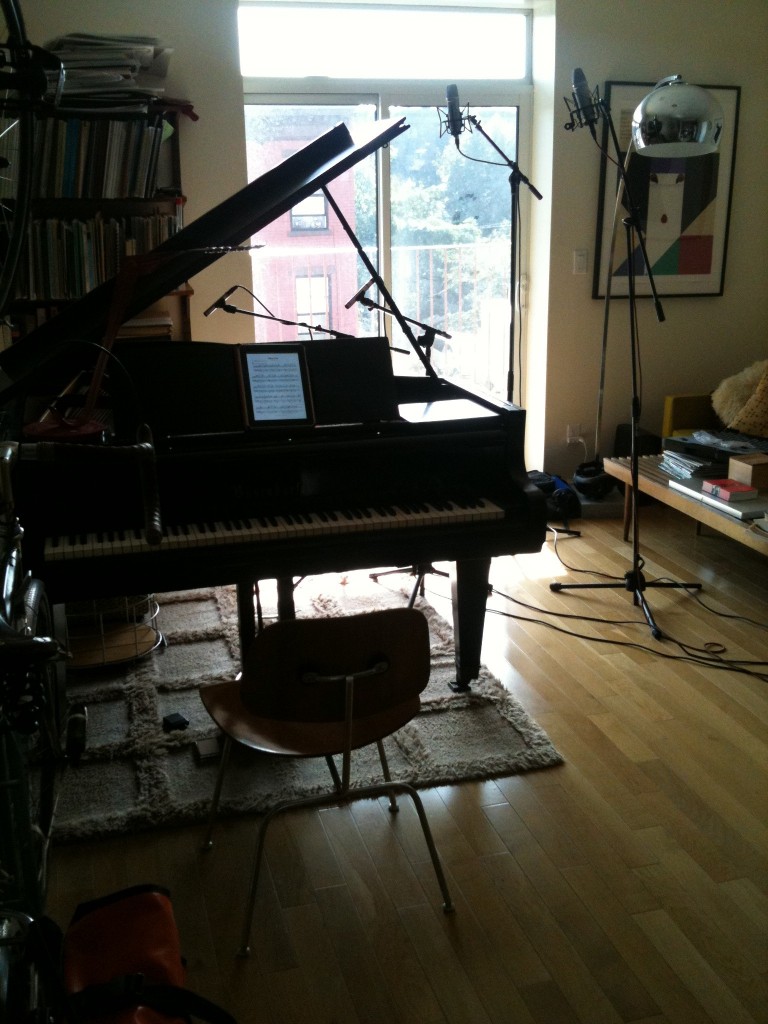 The fol­low­ing is an exam­ple of one of these efforts. Clifton Gates is a piece writ­ten for me by Jacob Cooper, which I played back in June at Barge­mu­sic. The com­bi­na­tion of solo piano and elec­tron­ic pro­cess­ing took some finagling to get right, but I think Jacob arrived at a pretty bril­liant com­bi­na­tion of sounds, some­thing that melds his longer, more purely elec­tron­ic exper­i­ments with beau­ti­ful­ly moody, intri­cate piano writ­ing. The title is in fact a ref­er­ence to John Adams's beloved Phry­gian Gates, though it takes the metaphor­i­cal elec­tron­ic gates and makes them lit­er­al.
Jacob Cooper: Clifton Gates
Timo Andres, piano
Clifton Gates was record­ed a couple weeks ago at my apart­ment on Clifton Place by Jacob and fellow Giant (and bud­ding audio engi­neer) Chris Cer­rone. Some days my living room is a record­ing studio and my bed­room a makeshift con­trol room, as you can see.
A funny thing has been hap­pen­ing over the past day, which is that friends and family have been writ­ing to con­sole me about the death of some­one I didn't know. I wouldn't say Steve Jobs was my "hero"—I'm not sure he would've liked the con­cept of heroes, anyway—but there are few people whose life's work have mat­tered to me more.
It's partly because his work has enabled almost every­thing I do. My first piano teacher was a Mac—a DuoDock if I remem­ber correctly—running a pro­gram called the Mir­a­cle Piano Teach­ing System, which was hooked up to a MIDI key­board. I became entranced with music and Macs in tandem. The early Inter­net beguiled me with its down­load­able share­ware and exquis­ite ani­mat­ed GIFs. I made my own custom folder icons in Pho­to­shop and con­struct­ed nar­ra­tive adven­tures in Hyper­Card. Even those beige plas­tic cases were some­how ele­gant enough to spark my early inter­est in design, and I start­ed draw­ing my own sketch­es of lap­tops, speak­ers, and mice.
In sixth grade I start­ed saving up for my dream com­put­er, which, if you can believe it, looked like this. That was when Apple was at its nadir (I sat through an Amelio keynote!), and I proud­ly wore my Dad's old Apple T-shirts to school to express my devo­tion to the cause. My family and I feel about Apple the way some fam­i­lies feel about their home­town base­ball team, dis­sect­ing each prod­uct announce­ment as if it were a cham­pi­onship game.
I didn't actu­al­ly suc­ceed in saving up enough to buy my own Mac until my first year of col­lege, when I spent it all on the very nicest Power­Book G4. The iTunes store may be the more impor­tant inven­tion, but it was iTunes library shar­ing that most changed my musi­cal life. Through my classmates's libraries, most of which were shared over the school net­work, I dis­cov­ered all sorts of music that was new to me. And thanks to some "gentleman's soft­ware" and a col­lege freshman's ques­tion­able sense of ethics, I was able to down­load it all onto my first iPod, my con­stant accom­pa­ni­ment on walks across campus and trips on Metro-North.
All the music I've writ­ten has been on a Mac. Even as a child I was frus­trat­ed by how slow it was to write music by hand; using a MIDI key­board and Sibelius let me notate the ideas down as they occurred to me.
One of the amaz­ing things about the trib­utes and ret­ro­spec­tives being pub­lished about Steve Jobs is that they are unan­i­mous in their thanks and praise for the tools Steve helped create, as if he were a kind uncle or gen­er­ous phil­an­thropist. I think he saw him­self that way, too, which I think is why I feel sort of per­son­al­ly affront­ed when some­one crit­i­cizes an Apple prod­uct, or even the com­pa­ny, to me. It seems dis­re­spect­ful in a way, like insult­ing the food at a friend's dinner party. This stuff is Steve's present to us, and he nearly always knew exact­ly what we wanted.
Sent from my iPad
Adden­dum: Chris Thomp­son, who I am head­ing off to rehearse with just this moment, has a lovely blog post with much cuter pic­tures.