Monthly Archives:
October 2011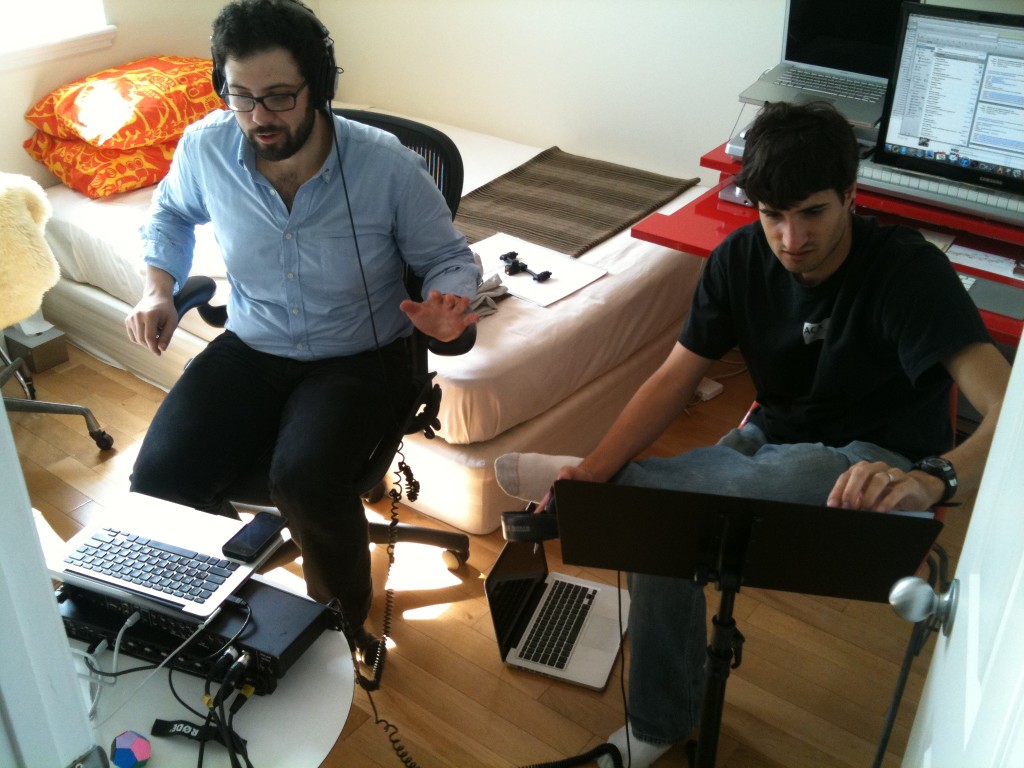 Sleeping Giant had our first fundraiser concert/party yester­day, at a lovely home right at Fulton Ferry Landing. It reminded that I'm quite grateful to find myself living in the midst of a thriving milieu of composers and musi­cians here in New York. One of the benefits of this is that we get to do projects together, which makes life less lonely than it other­wise would be for a composer. Sleeping Giant is merely one of the more public faces of this. At one point in my life I might have scoffed at the idea of a "composers' collec­tive" (the term some­times seems short­hand for "none of us is quite inter­est­ing enough to carry a show on our own") but I can't help but see Sleeping Giant as some­thing differ­ent. For one thing, it's simply giving a name to a set of rela­tion­ships, collab­o­ra­tors, artistic friends and foils that would have existed anyway.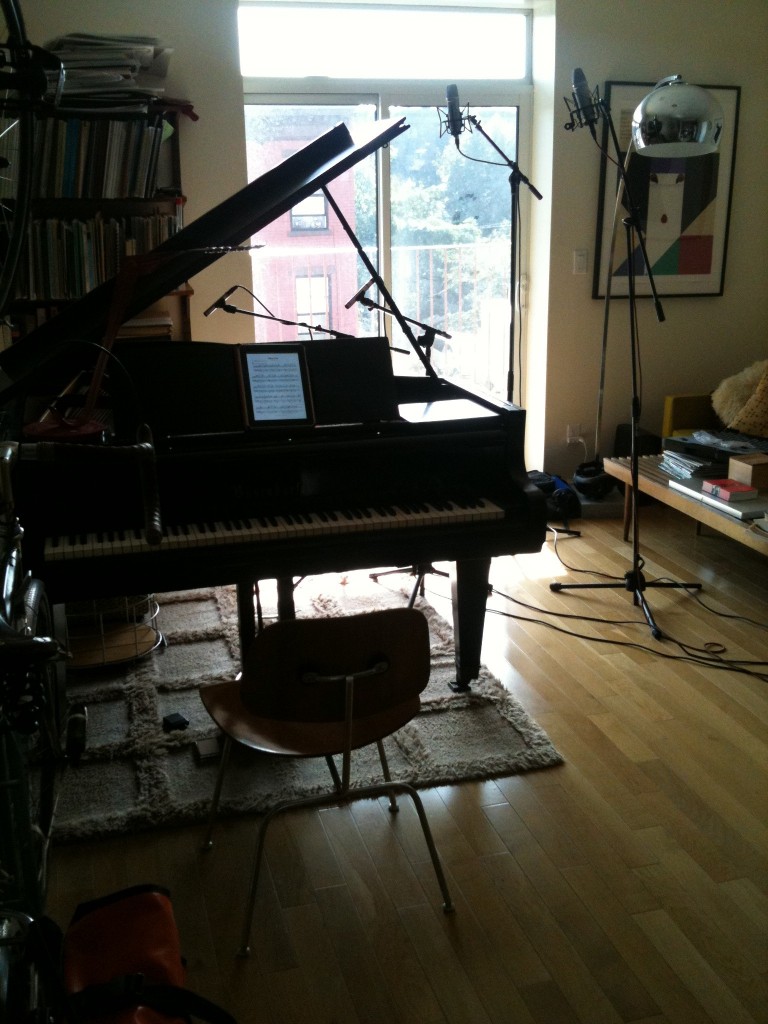 The follow­ing is an example of one of these efforts. Clifton Gates is a piece written for me by Jacob Cooper, which I played back in June at Barge­mu­sic. The combi­na­tion of solo piano and elec­tronic process­ing took some finagling to get right, but I think Jacob arrived at a pretty bril­liant combi­na­tion of sounds, some­thing that melds his longer, more purely elec­tronic exper­i­ments with beau­ti­fully moody, intri­cate piano writing. The title is in fact a refer­ence to John Adams's beloved Phrygian Gates, though it takes the metaphor­i­cal elec­tronic gates and makes them literal.
Jacob Cooper: Clifton Gates
Timo Andres, piano
Clifton Gates was recorded a couple weeks ago at my apart­ment on Clifton Place by Jacob and fellow Giant (and budding audio engineer) Chris Cerrone. Some days my living room is a record­ing studio and my bedroom a makeshift control room, as you can see.
A funny thing has been happen­ing over the past day, which is that friends and family have been writing to console me about the death of someone I didn't know. I wouldn't say Steve Jobs was my "hero"—I'm not sure he would've liked the concept of heroes, anyway—but there are few people whose life's work have mattered to me more.
It's partly because his work has enabled almost every­thing I do. My first piano teacher was a Mac—a DuoDock if I remember correctly—running a program called the Miracle Piano Teaching System, which was hooked up to a MIDI keyboard. I became entranced with music and Macs in tandem. The early Internet beguiled me with its down­load­able share­ware and exquis­ite animated GIFs. I made my own custom folder icons in Photo­shop and constructed narra­tive adven­tures in Hyper­Card. Even those beige plastic cases were somehow elegant enough to spark my early interest in design, and I started drawing my own sketches of laptops, speakers, and mice.
In sixth grade I started saving up for my dream computer, which, if you can believe it, looked like this. That was when Apple was at its nadir (I sat through an Amelio keynote!), and I proudly wore my Dad's old Apple T‑shirts to school to express my devotion to the cause. My family and I feel about Apple the way some families feel about their hometown baseball team, dissect­ing each product announce­ment as if it were a cham­pi­onship game.
I didn't actually succeed in saving up enough to buy my own Mac until my first year of college, when I spent it all on the very nicest Power­Book G4. The iTunes store may be the more impor­tant inven­tion, but it was iTunes library sharing that most changed my musical life. Through my class­mates's libraries, most of which were shared over the school network, I discov­ered all sorts of music that was new to me. And thanks to some "gentle­man's software" and a college fresh­man's ques­tion­able sense of ethics, I was able to download it all onto my first iPod, my constant accom­pa­ni­ment on walks across campus and trips on Metro-North.
All the music I've written has been on a Mac. Even as a child I was frus­trated by how slow it was to write music by hand; using a MIDI keyboard and Sibelius let me notate the ideas down as they occurred to me.
One of the amazing things about the tributes and retro­spec­tives being published about Steve Jobs is that they are unan­i­mous in their thanks and praise for the tools Steve helped create, as if he were a kind uncle or generous phil­an­thropist. I think he saw himself that way, too, which I think is why I feel sort of person­ally affronted when someone crit­i­cizes an Apple product, or even the company, to me. It seems disre­spect­ful in a way, like insult­ing the food at a friend's dinner party. This stuff is Steve's present to us, and he nearly always knew exactly what we wanted.
Sent from my iPad
Addendum: Chris Thompson, who I am heading off to rehearse with just this moment, has a lovely blog post with much cuter pictures.