If you've seen me play in the past, oh, six months or so, you may have noticed me read­ing music off this new­fan­gled con­trap­tion called an "iPad". Recent­ly I added to this an Air­Turn pedal, a little wire­less switch that lets me turn vir­tu­al "pages" with my feet, which is good for those instances when I can't spare a finger. Lots of people seem to like to ask me about this sit­u­a­tion post-con­cert, and it's actu­al­ly a really boring sub­ject, so I thought it would make a great blog post.
I didn't get an iPad for the pur­pose of read­ing music. I got an iPad because I thought it was a neat toy, and my pops had an extra one. The music-read­ing evolved nat­u­ral­ly as part of the com­pos­ing process—I'd write a little some­thing on my com­put­er, and instead of haul­ing it over to the piano (which is all of 15 feet away) I start­ed email­ing PDF files to myself and read­ing them off the iPad. Hereto­fore, print­ing out mul­ti­ple drafts was just part of writ­ing a piece (I've found that com­posers tend to go through LOTS of paper) and I was glad to be rid of that step. Read­ing off the screen is not bad, either; while it's maybe not as big as I would like, and can only dis­play one page at a time (instead of two side-by-side, as with a print­ed book­let), it's big enough for most normal-sized piano music. And who knows, per­haps some day there will be an iPad XL super edi­tion.
Ini­tial­ly I read scores in iBooks, which is the built-in eBook and PDF read­ing app that comes with the iPad. This became unten­able pretty soon. There's no way to make anno­ta­tions in iBooks, and worse, there's no orga­ni­za­tion system. You can't rename any­thing or edit meta­da­ta, all your scores just end up there in a big pile. Enter ForScore (haha get it?), an app which sev­er­al musi­cian friends rec­om­mend­ed to me. It's specif­i­cal­ly built for orga­niz­ing and read­ing scores, and has a ton of useful features—annotations, a metronome, page scaling/cropping, a built-in brows­er (oh hello imslp.org), book­marks, auto-repeats, and lots of deli­cious meta­da­ta.
Unfor­tu­nate­ly I don't love ForScore. For all its eager­ness to help, the inter­face is really quite crude and awk­ward. It's one of those deals where you con­stant­ly need to be in the right "mode" to do this and that, and select the right "tool". It feels very old-fash­ioned in this way; I wonder if the program's design­ers are Finale users. Say you want to mark a fin­ger­ing: you've got to tap-and-hold to get into "edit mode", make sure you've got the "stamp tool" select­ed, select a number stamp from the little palette, zoom in to where you want to place it (oth­er­wise it's hope­less­ly inac­cu­rate), and press "done" to get out of edit mode. A bit more involved than, say, pencil and paper.
Even worse: once you've gone to the trou­ble of anno­tat­ing a bunch of scores, you can only export them in the pro­pri­etary .4sc format, oth­er­wise you lose your mark­ings. That sucks. The PDF file format sup­ports anno­ta­tions and meta­da­ta just fine; ForScore's reliance on its own format is a pretty trans­par­ent lock-in attempt.
Here is what ForScore looks like:
Turn­ing pages on the iPad is easy enough with the tap of a finger, but some­times, of course, one can't spare even that, which is why I bought an Air­Turn pedal last month. It's a very simple foot switch con­nect­ed to a Blue­tooth trans­ceiv­er. The bat­ter­ies in the trans­ceiv­er last for days, and you recharge the thing by plug­ging it into a com­put­er with a mini-USB cable. The iPad basi­cal­ly rec­og­nizes it as an exter­nal key­board, albeit with only one key: Page down. Of course, this means that when you're paired with the Air­Turn, the iPad doesn't show its onscreen key­board, which is the MOST ANNOYING THING EVER. If you want to, say, send a quick email, you've got to dis­con­nect from the pedal in order to type on the damn thing. This, too, sucks.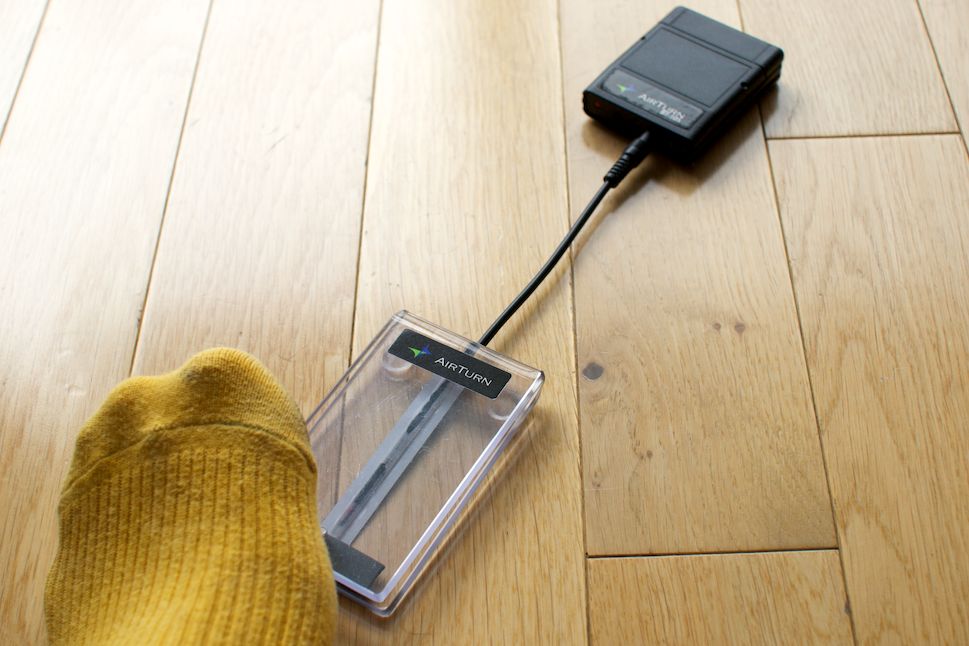 The hard­ware is pretty nice, and quite unob­tru­sive; I put the pedal to the left, next to una corda. It takes maybe a week to get com­plete­ly used to this, but once you have, you'll find your­self reflex­ive­ly tap­ping the floor when it's not there. I opted for the clear plas­tic pedal, which makes it nearly invis­i­ble to the audi­ence; this is a good thing. It's also nearly silent in oper­a­tion; I glued a layer of cork sheet­ing on mine just to dampen that extra "clack" you get with leather-soled shoes. You can con­nect a second pedal to go back­wards, but who wants to do that?
Per­form­ing, how­ev­er, is where the iPad + ForScore + Air­turn com­bi­na­tion shines. You can make a setlist in ForScore and it will auto­mat­i­cal­ly move on to the next score. It's also got a nice fea­ture called "debounce", which pre­vents you from acci­den­tal­ly hit­ting the pedal twice and turn­ing two pages. It's really smooth, and of course, in per­for­mance is when it's most impor­tant for the expe­ri­ence to be seam­less and reli­able. Just remem­ber to charge your bat­ter­ies.