Tuesday's fash­ion show went unex­pect­ed­ly smooth­ly, con­sid­er­ing the last-minute nature of it all (there were parts of my score that Tema and I nev­er even got a chance to rehearse!) Unfor­tu­nate­ly, some pieces of cloth­ing went miss­ing, so my out­fit had to be sac­ri­ficed to clothe some mod­els (most of whom, appar­ent­ly, share my physique). Tema, on the oth­er hand, was all got­ten up like some sort of futur­is­tic Siber­ian space princess; she played ici­ly.
Speak­ing of which, I'm cur­rent­ly obsessed with dan­de­lion greens, which seem to be in sea­son, rather unac­count­ably. Gabe intro­duced them to me at one of his many fan­tas­tic din­ner par­ties, and I've been exper­i­ment­ing since then; the oth­er day I came up with this Ital­ianate Cæsar Sal­ad trope.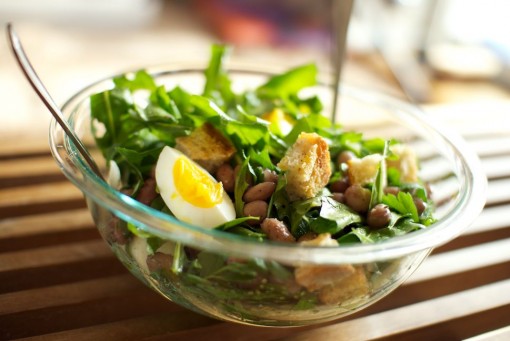 Dandelion Cæsar Salad Tropes
Mac­er­ate a cou­ple of salt­ed anchovies with a clove of gar­lic, some wine vine­gar, and good olive oil. Chop up your dan­de­lions into man­age­able pieces, and dress them; they are hearti­er than reg­u­lar sal­ad, and can stand to be dressed in advance. Boil a cou­ple of six-minute eggs, toast up some crou­tons with salt, pep­per, and olive oil. Com­bine all this with the greens, and add in a cup or so of Borlotti/Cranberry/Roman beans (which you just have sit­ting around, pre-cooked, of course). I think I also may have put a few leaves of pars­ley in there? And that's it! This is one of those sal­ads that can stand as a meal on its own, though I can imag­ine it pair­ing well with a roast­ed fowl of some sort.