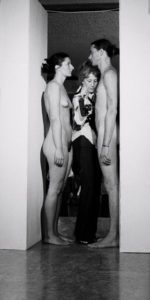 The NY Phil­har­mon­ic host­ed anoth­er "blog­ger night" for its new con­tem­po­rary music series, CONTACT!, on Fri­day. I was espe­cial­ly eager to go for a few rea­sons. I knew two of the com­posers per­son­al­ly (Sean and Nico) and was eager to see what they'd come up with for the Phil­har­mon­ic; I'm also just inter­est­ed to watch the evo­lu­tion of the series, the exis­tence of which would have been unthink­able even a cou­ple of years ago. (You can read some of my thoughts on the first CONTACT! show here.) I'd nev­er seen Alan Gilbert con­duct before, embar­rass­ing­ly enough. And last­ly, who am I to turn down free tick­ets from the NY Phil­har­mon­ic? Just a com­pos­er who dear­ly hopes he might be com­mis­sioned some­day, too! (I think was sub­tle. Was that sub­tle?)
So I met my dear friend Ted up at Sym­pho­ny Space. That place still needs to get more legroom. And less car­pet­ing. But oth­er than that, it's a nice venue for a new music con­cert, and it was pret­ty packed on Fri­day, which was great to see (I won­der if the sec­ond show, at the Met muse­um, where they didn't hand out mas­sive num­bers of free tick­ets, was as full). I was look­ing for­ward to hear­ing some music, but CONTACT! wants to be all up in your face about it before­hand, which is prob­a­bly why they named it that. I'm all for putting com­posers in the spot­light and mak­ing them talk. But there was So Much Pon­tif­i­cat­ing. Alan Gilbert, John Schæfer, Mag­nus Lind­berg PLUS Sean, Nico, and Matthias Pintsch­er; all smart, charis­mat­ic, and artic­u­late peo­ple, but just too many voic­es. They could have cut down the talk­ing and added a fourth piece to the pro­gram.
The music on this show felt com­plete­ly in place at a New York Phil­har­mon­ic Con­cert; pol­ished and inven­tive, but not too risky. Sean's piece, These Par­tic­u­lar Cir­cum­stances, sound­ed rav­ish­ing— quite a feat in the bone-dry acoustic of Sym­pho­ny Space. It struck me as cel­e­brat­ing a par­tic­u­lar kind of vir­tu­os­i­ty or craft, both com­po­si­tion­al and instru­men­tal. The lev­el of work­man­ship of the piece was so obvi­ous­ly of the high­est qual­i­ty that the musi­cians respond­ed by gen­uine­ly play­ing their best. Sean's musi­cal lan­guage is very much an "embar­rass­ment of rich­es" kind of sound— beau­ti­ful details fly by at an alarm­ing rate. I had the feel­ing of being at some sort of over­whelm­ing buf­fet and want­i­ng to eat every­thing, but not being able to take it all in. The piece was struc­tured in sev­en or eight very short, con­tin­u­ous episodes, and I missed a log­i­cal thread con­nect­ing them, but most­ly I was so amused by what was tak­ing place at that very moment that it didn't both­er me.
Nico joked before­hand that he wrote a piece with­out any detail, know­ing it would be paired with Sean's obses­sive­ly detailed one. (Their titles, how­ev­er, share a cer­tain sim­i­lar­i­ty of tone; Nico's is called Detailed Instruc­tions.) It actu­al­ly was quite a stark change from Sean's ges­ture-dri­ven music to Nico's, which is pulse-dri­ven (even when he dis­torts the pulse with cæsuras and jump-cuts) and rig­or­ous­ly struc­tur­al. Here, I felt, a more flat­ter­ing acoustic would have done the music many favors; the orches­tra­tion was down­right arid, with the excep­tion of the mid­dle sec­tion, which worked up a love­ly, Bri­an Eno-esque soupi­ness. Over­all, though, the piece felt a bit pale after Sean's riot of col­or; maybe this had to do with Nico's deci­sion to cast out the vio­lins in favor of more vio­las, which didn't seem to ade­quate­ly fill out the sound. It was as though an impor­tant fre­quen­cy of the orches­tra had been EQ'd into obliv­ion. Of course, this may have just been a fac­tor of pro­gram order, and could have eas­i­ly been fixed by swap­ping the first two pieces.
Matthias Pintscher's songs from Solomon's gar­den was clear­ly meant to be the "big piece" on the pro­gram, and it had a big star in it: Thomas Hamp­son. He looked earnest and a bit out of place in his New Music Con­cert­blax and avun­cu­lar read­ing specs. I think Hamp­son is a good singer, and his album of Mahler lieder saw me through high school, but I think he was a ter­ri­ble choice for the Pintsch­er. I always have a hard time telling what pitch bari­tones are singing, much less in music that lacks any sort of tonal cen­ter, and here the vocal writ­ing was very "gener­ic New Music": tri­tone here, minor sec­ond there, major sev­enth leap for a par­tic­u­lar­ly expres­sive moment. I com­ment­ed to Ted that I would have liked to hear a more pure-voiced singer like Theo Bleck­mann sing it; the more abstract the har­mon­ic lan­guage, the more dead-on pre­cise the singer's pitch has to be.
Pintscher's orches­tral writ­ing was exquis­ite to a fault, but I didn't under­stand how it relat­ed to the vocal line or the text (which was set in the orig­i­nal Hebrew). Every com­po­si­tion­al deci­sion seemed geared toward achiev­ing a par­tic­u­lar kind of æsthet­ic beau­ty, in a con­trol-freak watch­mak­er sort of way, but as in These Par­tic­u­lar Cir­cum­stances, I failed to grasp a nar­ra­tive thread; the struc­ture of the piece seemed to be com­plete­ly a func­tion of the text. I guess I'm more of the David Lang school of text set­ting, where I like my words to wedge them­selves into a musi­cal form, not vice ver­sa. Music and text are struc­tured dif­fer­ent­ly for a rea­son; read­ing poet­ry takes place in the reader's mind, at his own pace, while music exists in real time, mean­ing it can con­trol the audience's per­cep­tion of time pass­ing. Why even both­er set­ting text if you don't have any of your own inter­pre­ta­tion to add? Oth­er­wise you're more of a glo­ri­fied medieval trou­ba­dour, strum­ming your lute qui­et­ly along to a dra­mat­ic recita­tion. If that's the affect Pintsch­er was try­ing to achieve, that's fine, but in that case, he should have set the text in Eng­lish, and made absolute­ly sure we could under­stand every word with­out fol­low­ing along in the pro­gram (which it was too dark to read, any­way); it would seem a safe assump­tion that Hebrew is not the pri­ma­ry lan­guage of New York Phil­har­mon­ic con­cert­go­ers.
But the real­ly impor­tant thing about this CONTACT! show: free beer instead of free flavoured vod­ka. Know your audi­ence!