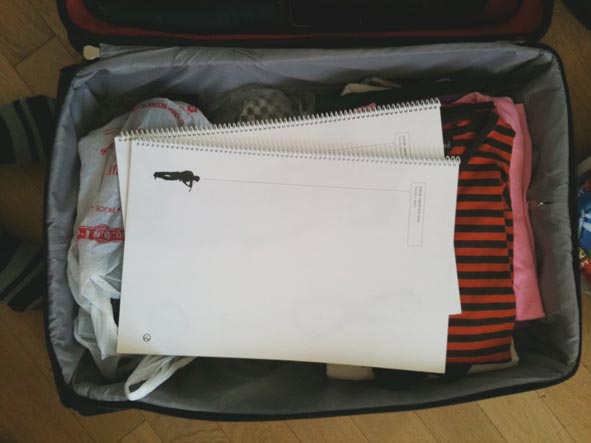 Sit­ting in a cof­fee shop right now in down­town Albany, await­ing tonight's pre­mière of Look Around You by the Albany Sym­pho­ny. It's sud­den­ly frigid and blus­tery; a hap­haz­ard­ly-locked moun­tain bike was just blown over in front of me. There's a strange dichoto­my between the scale of Albany and the feel­ing of it, as though its plan­ners had envi­sioned a much grander place than actu­al­ly turned out. Bars here close around 11:30; at one, we wit­nessed an impromp­tu push-up con­test between the bar­maid and a bounc­er.
Luck­i­ly, there are many friends here: Owen, of course, because he is play­ing my con­cer­to, with his love­ly girl­friend Meena; Rob, my friend from Yale, in town for the ASO's com­pos­er read­ings; Anna, a composer/visual mag­ic-mak­er who lives in Troy and goes to RPI; my old Hin­demith Ensem­ble cohort Yi-Ping, hold­ing down the ASO's vio­la sec­tion. We all head­ed out to a rather unlike­ly Lebanese restau­rant last night and were fussed over like long-lost fam­i­ly.
Tomor­row, it's off to New Haven for the pre­mière of Crash­ing Through Fences, a short piece I wrote for Ian Rosen­baum and Mindy Hein­sohn for pic­co­lo, glock­en­spiel, and two kick­drums (which I believe to be a unique com­bi­na­tion). I hadn't been able to make it to New Haven to hear them rehearse, so late last night Ian dropbox'd me a WAV file of one of their run-throughs, which turned out to be com­plete­ly per­fect, pol­ished, and ready for per­for­mance, with­out me ever say­ing a word. It is so grat­i­fy­ing when that hap­pens; it's one of the main advan­tages about writ­ing for friends, some­thing I'm also remind­ed of in Owen's fierce ren­di­tion of Look Around You's violin/viola part. If you can't make it to New Haven for Ian's show, you can lis­ten to it stream­ing, live, over the inter­net; thanks, Fred Plaut Record­ing Stu­dio!