I'll let you in on a shame­ful secret: I don't care for/actively dis­like most Con­tem­po­rary Music. For this rea­son I'm kind of stunned by how much I liked Saturday's Bang on a Can Marathon, which, I'm embar­rassed to say, was the first I've attend­ed. (This was actu­al­ly more like a mini-marathon; only six hours or so. I think the NYC ones are longer, and the ones I used to pro­duce at Yale went until dawn.) Here is the white­board back­stage. You can see that David Lang made every­thing a lit­tle late, but they man­aged to get back on sched­ule. Right on.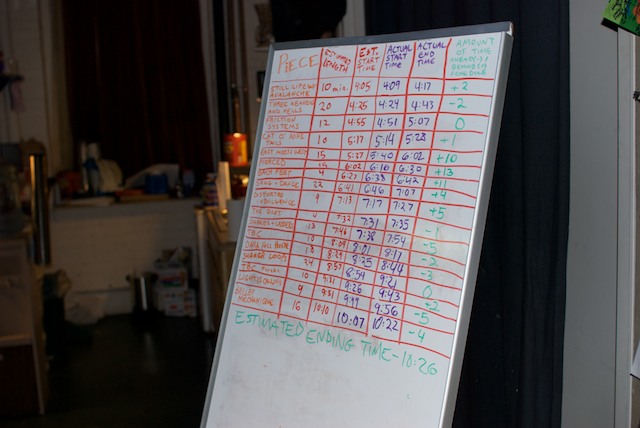 Every time I hear Mered­ith Monk's music I am total­ly entranced. She has a tiny two-piano piece called Ellis Island that I like to lis­ten to on repeat. On the Marathon we heard Three Heav­ens and Hells, a 25-minute set­ting of a 7 years old child's poet­ry with ani­mal nois­es. This sounds like the thing I might hate most in the world, but it was actu­al­ly fan­tas­tic. (My par­ents, con­verse­ly, were either bored or scared and left right after this piece.) Even the poem was pret­ty good, bet­ter than I could do at least, and it didn't rely on being cute.
Right after that was Zorn's Cat o' Nine Tails (sub­ti­tle, thanks to David Lang: "Tex Avery directs the Mar­quis de Sade"). Actu­al­ly now that I think about it, this piece is kind of cute. It relies pret­ty heav­i­ly on sud­den jump cuts from [noise+dissonance] to [out­dat­ed music genre+consonance], but, if per­formed well (and it was!) these jux­ta­po­si­tions are jar­ring and hilar­i­ous. Andi Hemen­way was wear­ing some seri­ous peeky-toe leather booths, befit­ting her role as violist/S&M dun­geon mas­ter.
I love Julie Wolfe's piece Dark Full Ride, because it is loud and badass and I feel badass after I lis­ten to it. Dave Cossin remarked that it sounds like a 70's cop show with­out the bass or sax­o­phone. Some­one else remarked that it had the most "testos­terone" of any music on the male-dom­i­nat­ed pro­gram. That seemed like a weird com­ment to me. Are female com­posers sup­posed to write qui­et, pret­ty music? And then go knit lit­tle hats or some­thing?
Then Shak­er Loops. I don't real­ly need to describe this piece. I love it more each time I hear it, and it is espe­cial­ly great in a real­ly tight live per­for­mance. Which this was. It was also heav­i­ly ampli­fied, but Tom­masi­ni wasn't there, so no one com­plained. (By the way, did you know that parts of Shak­er Loops were used in the game Civ­i­liza­tion IV? Because I didn't.)
Every­one said Todd Reynolds's per­for­mance of Michael Gordon's Light is Call­ing was a high­light, but I missed it because I was back­stage get­ting primed for the grande finale, George Antheil's Bal­let Mécanique. Not the orig­i­nal ver­sion for 24 play­er-pianos and 96 hot water heaters (or what­ev­er) but a slight­ly less ridicu­lous ver­sion for four pianos and a huge bat­tery of per­cus­sion. It's still a piece of extremes; of vol­ume, tem­po, musi­cal banal­i­ty and catch­i­ness (these inane frag­ments will be run­ning through my head for weeks). I'm not sure I like the piece; it's like say­ing you like a USB dri­ve, it either works or it doesn't. But I sure enjoyed play­ing it, and my three fel­low pianists (Vic­ki Ray, Richard Val­i­tut­to, and Andrew Dran­non) were a plea­sure to play with.
A Cou­ple Things I Didn't Under­stand About the Marathon
There were sev­er­al pieces by younger com­posers that were Way Way Too Long. Aren't we sup­posed to be the ones with short atten­tion spans and tex­ting and gui­tar hero and stuff? News flash, unnamed com­pos­er, you are not Mor­ton Feld­man! Lisa Bielawa's The Boat, a fun­ny set­ting of Gertrude Stein, was notably Just the Right Length™. Maybe you should be more like her.
There were a few musi­cians in res­i­dence who came over from Kyr­gyzs­tan and Uzbek­istan and played tra­di­tion­al instru­ments and musiks. This was a cool idea and I'm all for glob­al­iza­tion and cross-cul­tur­al exchange, but it gave me a fun­ny feel­ing. Espe­cial­ly when the two hand­some fel­lows from Kyr­gyzs­tan came out in their tra­di­tion­al eth­nic garb, com­plete with upright white bowler-like hats. No one else on the marathon had to dress up at all, in fact many just wore jeans and the BoaC T-shirt. The whole thing reeked of exoti­cism. Musi­cal­ly, I didn't under­stand the con­nec­tion to the rest of the marathon, if there was one at all; it's nice to hear new things, but you can't just take Kyr­gyzs­tani folk music played on chopo chuors and sybyz­gys and temir ooz komyzs, ampli­fy it a bunch, and expect it to fit in with a bunch of over­thought, over­wrought con­tem­po­rary Amer­i­can con­cert music. Because it doesn't.
I don't like being neg­a­tive (actu­al­ly who am I kidding&— I love it) so here is a pic­ture of some graf­fi­ti I found on an aban­doned build­ing on the Mass MoCA cam­pus: