Hap­pi­ly ensconced up here in North Adams, MA at the Bang on a Can fes­ti­val. They keep us busy here; not a lot of time to "blog". Here is last night's 3-hour rehearsal of Steve Reich's Music For 18 Musi­cians: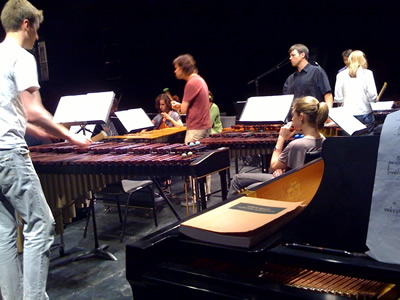 That's Brian Cal­hoon on the left. At one point I get up from my piano and join him on the top line of the marim­ba. I love how Reich treats pianists (the most finicky of musi­cians) as noth­ing more than aux­il­iary per­cus­sion­ists (some of the most down-to-earth). Props for putting us in our place, Steve. The per­for­mance, and my grand marim­ba début, are coming up on Sat­ur­day. (Side note: we were trying to explain to an Aussie per­cus­sion­ist the mean­ing of the expres­sion "props", and decid­ed it is to prop some­one up with a stage prop, like a teapot or some­thing.)
A couple days ago I played Derek Johnson's solo piano piece Infin­i­ty Plunge in front of some apoc­a­lyp­tic Anselm Kiefer land­scapes. The piece is a pretty stun­ning show­case of both com­po­si­tion­al and pianis­tic vir­tu­os­i­ty, and has a won­der­ful dra­mat­ic sweep over the course of 3 and a half move­ments (which are all linked by relat­ed ges­tures, motives, and tempi). You can listen here:
Derek John­son: "Infin­i­ty Plunge"
Right now I'm off to rehearse Antheil's Ballet Mechanique. This fes­ti­val is all about test­ing the sta­mi­na of massed pianists; the Ballet is almost more taxing in the few instances I'm not play­ing, but fran­ti­cal­ly count­ing the rests until the next time I come in. Funny how that works.