Every year I go through a cycle of redesign­ing my web­site, liking the design a lot, grad­u­al­ly liking it less and less, and then redesign­ing again. This has pretty much been hap­pen­ing since 2001, so I might as well instate it as an annual tra­di­tion. I haven't kept very good records of the old designs, which is a pity, because some of them were really bad and hilar­i­ous. Here is what the home page looked like in 2001: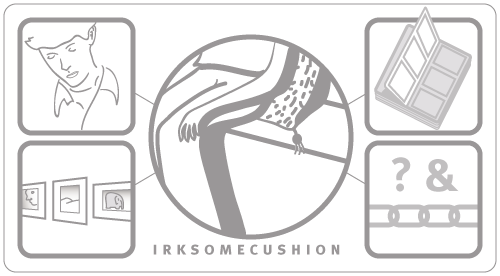 As you can see, I have gotten over the round­ed rec­tan­gles thing, but I still like gray.
The 2008 redesign is more of a col­lec­tion of refine­ments than a real over­haul. The fonts are dif­fer­ent; I decid­ed that Meta was look­ing too cor­po­rate (not that Hel­veti­ca isn't the epit­o­me of cor­po­rate, but it can also be a lot of other dif­fer­ent things). The page head­ings are now in Gotham and Hoe­fler text (hooray H&FJ!). As soon as I start­ed work­ing with Gotham I began to notice it absolute­ly every­where, from Obama to Martha Stew­art to Banana Repub­lic, so I guess I'm still pretty much a cor­po­rate poseur. But it is nonethe­less a great font.
Some more changes have taken place behind the scenes, as I've switched from GoLive to Dreamweaver. I don't like either pro­gram; Dreamweaver is finicky (though per­haps in fewer respects than GoLive) but I still think GoLive has a better user inter­face. Dreamweaver feels like a Win­dows app, with fea­tures thrown togeth­er in a bunch of palettes (all of which oper­ate in slight­ly dif­fer­ent ways) with­out much regard to orga­ni­za­tion or visual hier­ar­chy. The WYSIWYG com­posit­ing tools are better and more reli­able than Golive's, though, which is really what counts for me since I don't know how to pro­gram.
I will be making more incre­men­tal improve­ments over the summer. In the mean­time, I leave you with this pic­ture, which can be mag­ni­fied cour­tesy of Cabel Sasser's pretty sweet Fan­cy­Zoom: