I fin­ished Piano Con­cer­to for Dave in good time, a couple of weeks ago. Also I decid­ed to call it Home Stretch. There are a few rea­sons for this, but mostly I wanted to give Dave some­thing that had to do with fast cars, which he is obsessed with. You should see that guy when he walks by a '67 Jaguar or some­thing on the street. It's actu­al­ly kind of scary.
The main con­cept behind Home Stretch was that it would be one long, grad­ual accel­er­a­tion, in three main sec­tions. What I didn't real­ize ini­tial­ly was that I'd never writ­ten that big a chunk of unin­ter­rupt­ed music before (it's about 18 min­utes). Shy and Mighty, even though it's about an hour, is divid­ed into more or less dis­creet tracks, none of which is more than 10 min­utes. So it required lots of effort and a good deal of fid­dling and adjust­ing pro­por­tions to make Home Stretch feel right.
Here's a pre­view of the first sec­tion. The strings hold every­thing down with very long, sus­tained chords with slight pul­sa­tion, which I wanted to sound like an idling engine heard from a dis­tance of sev­er­al blocks. I fooled around with a few dif­fer­ent ways of notat­ing pul­sa­tion in a static chord, but here's the one Aaron liked best:

For the past couple of weeks I've also been work­ing on an honest-to-good­ness pro­fes­sion­al graph­ic design gig. The Yale Sym­pho­ny hired me to do their pub­lic­i­ty for the last con­cert of the year. Here's the stan­dard letter-sized poster (click for full size):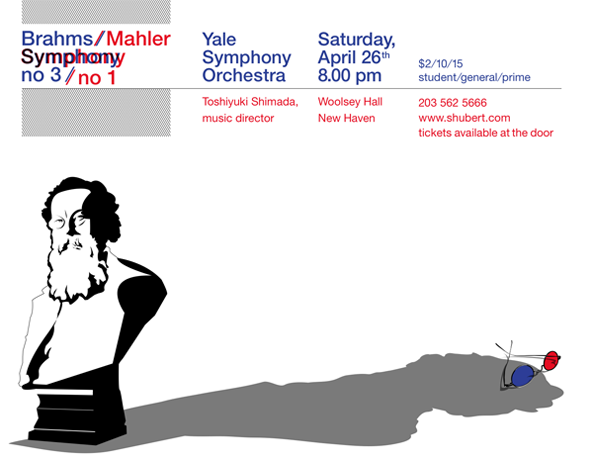 Since the pro­gram con­sists of late Brahms and early Mahler, I wanted to do some­thing that didn't show them both on equal foot­ing. Brahms was so firmly entrenched in the cul­ture of German music by the end of the 19th cen­tu­ry, when Mahler was work­ing on his first sym­pho­ny, that the "anx­i­ety of influ­ence" felt by the younger com­pos­er must have been over­whelm­ing. Mahler respond­ed to it by com­bin­ing his influ­ences with a hyper-roman­tic, almost hal­lu­cino­genic world­view, which is what makes his sym­phonies thrilling and orig­i­nal, yet ties them to the German tra­di­tion. So Mahler is rep­re­sent­ed on the poster as almost despair­ing, having cast aside his glass­es— the instru­ment he uses to view the world— while Brahms is the stern, immov­able mon­u­ment which must be con­front­ed.
In real­i­ty, though, those are my glass­es— it's a secret double mean­ing!